Are you looking for cheap ways to display art in your home without spending so much money on expensive frames and mounts?
The cheapest way to display art involves leaning artwork against a wall or tabletop objects like a lamp or potted plant. Second-hand frames or inexpensive adhesives allow showing off creative works on a budget. Building a trellis or reclaiming unconventional hangers can display art at little cost.
Below we've rounded up 11 simple and affordable ideas for displaying art at home for you to get inspired.
Leaning Artwork Against A Wall
You can display artwork cheaply by simply leaning it against a wall. This is an excellent way to avoid damaging your walls and gives you the freedom to switch and arrange your pieces as much as you like. We can all agree that this is a perfect solution for commitment-phobes or serial re-arrangers alike.
If you want to lean your artwork without looking like you forgot to hang it, use the layering technique. Here's how:
Group three to five pieces of artwork together. Vary the sizes and shapes of the pieces to create an attractive collage.
Lean the largest piece of artwork against the wall first. Position the other smaller pieces of artwork in front of it, slightly offset so that they create a layered effect.
Step back and enjoy your new arrangement!
You can use this layering technique to arrange your artwork on the floor. This will help to hide cords, cable boxes, or unused wall outlets. You can also lean smaller pieces of art on a desk or table against the wall.
Suppose you have children or pets in the home. In that case, you can secure the leaning frames with mounting putty or consider leaning the frames on shelves out of reach to prevent accidental tipping and to keep curious hands (or paws) from damaging the artwork.
Leaning artwork against a wall is a great start. But, if you have limited wall space or live in an open-concept home, you can prop your artwork on other items.
Propped Up Against Other Items
No wall, no problem. You can still display your artwork even if you don't have any wall space. Get creative and prop your artwork against other items in your home, like vases, small pieces of furniture, or heavier tabletop items.
If you want to take this idea one step further to beautify your bookshelf, there's nothing to stop you.
Tucked Into A Bookshelf
Turn bookcases into a work of art by displaying some of your favorite pieces on your bookshelf. You can add accent pieces like vases or small sculptures to the shelves to complete the look.
But if you want to ditch the wall entirely, you can hang your artwork right on the frame of the bookshelf. This is also very tactical if there is an area on the bookcase where you'd like to hide something. Here are tips on how to do the hanging:
The art piece should be large enough to be the focal point but not so big as to prevent access to the books.
Use command strips or velcro strips to hang the art since they don't leave holes, and follow the mounting directions to the tee.
Besides leaning art against the wall or propping it against other items, there's also the option of using second-hand frames.
Thrift Store Mismatch Frames
One of my favorite things is to walk into a thrift store and buy a bunch of vintage and second-hand frames in different sizes, shapes, and colors. Then I'll print some photos or posters and put them in the mismatched frames. This creates an eclectic look that is both stylish and unique.
Here are tips on buying a thrifted collection to create a gallery wall:
If you find a frame you like, buying more than one is a good idea. Using several of the same frames in a gallery wall gives you a balanced, streamlined look.
Look for frames that have interesting details like carved wood, metalwork, or gilding.
Go for frames that complement your photos, or you can repaint them to get the perfect look.
If second-hand frames won't do, you can reuse a trellis or room divider screen. Both options are great ways to add privacy to a room and show off your artwork.
Trellis or Room Divider Screen
A leaning trellis or a room divider are other inexpensive and fun ways to arrange your small works of art into a gallery wall. You can add some greenery to the mix by intertwining some plants into the trellis.
Use command or velcro strips to secure your artwork to the divider screen. Be sure to follow the mounting directions. The newly hung artwork will add privacy to your space and extra pizazz. Plus, you get to take the statement piece with you when you move.
Another option? Use Washi tape as a faux frame.
No Frame Washi Tape
Sometimes it is okay to tape your art instead of framing it. You can use Washi tape, a decorative Japanese masking tape that comes in many colors and patterns. This creates a unique and non-traditional way to "frame" your artwork.
A Washi tape is sticky enough to keep your artwork in place but gentle enough to be removed without damaging the wall.
One example of using Washi tape is when you want to display inexpensive prints, like your children's artwork. Best of all? It can be a do-it-together experience with your kiddo. You can get them involved in the decoration process and have them pick out their favorite pieces.
Another cheap means for displaying your artwork is by using mounting putty & frame tape.
[Editor: please add frame tape image from media library here set caption Source: houzz.com] 
Mounting Putty & Frame Tape
You can use mounting putty or frame tape to adhere your lightweight pieces directly to the wall. These are great solutions for small prints or if you're looking for a temporary display. Plus, they are inexpensive.
For both solutions, start by prepping the wall by wiping it down with a damp cloth to remove any dirt. Then, follow the directions on the packaging for the putty or tape.
A mounting putty has strong holding power, and the frame tape is a decorative way to add some flair to your artwork.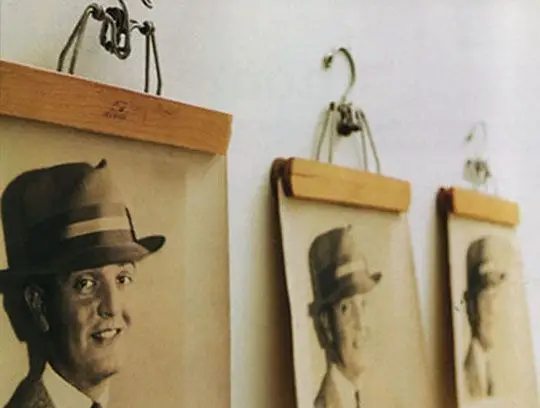 Pant Hangers
Pant hangers are not just for pants! You can use them to display artwork too. Slip the artwork through the metal loop, and you're all set. This is a creative way to show a series of prints.
You can also buy wooden hangers and paint them to match your décor. This is a great way to add a pop of color to your walls.
Clipboard Wall
Clipboards are often seen as mundane office supplies, but you can use them to hang artwork. Clipboards are cheap, easy to find, and easy to use. Plus, they add a unique touch to your décor.
To create a clipboard wall:
Start by collecting a few clipboards in different sizes and colors.
Paint or stain the clipboards if desired.
Once they are dry, add your artwork and hang them on the wall using nails or screws.
This is a great way to display kids' artwork, postcards, or photos. And you can switch out the images in the clipboard gallery as often as you like with ease.
Clipped To The Wall
Picture hanging can be an expensive endeavor. Frames, matting, and glass can quickly drive up the cost of what should be a simple process. But there is an easy and inexpensive workaround that only requires a trip to the office supply store. All you need are some binder clips, your posters, and push pins.
To get started, gather your artwork and a few binder clips. Then, clip the binder clips onto the top corners of your artwork. Next, use push pins to secure the binder clips (and your artwork) to the wall. That's it!
Digital Display
No longer are we limited to physically hanging a pièce de résistance on our wall.
With technology, one can start incorporating some digital flair into their home in various ways, whether by upcycling an old tablet or laptop, leveraging your smart TV's screensaver function, or displaying artwork on your computer's or smartphone's wallpaper background.
Here are 9 ideas for displaying digital and NFT artwork.