We live in a world where everything has turned digital. As a result, the days of hanging an original oil painting up in your living room are coming to an end. And while you may think digital art just doesn't have the same feel as physical artwork, you might change your mind today. 
Here's a look at some unique ways to display digital art, including those popular NFT art pieces.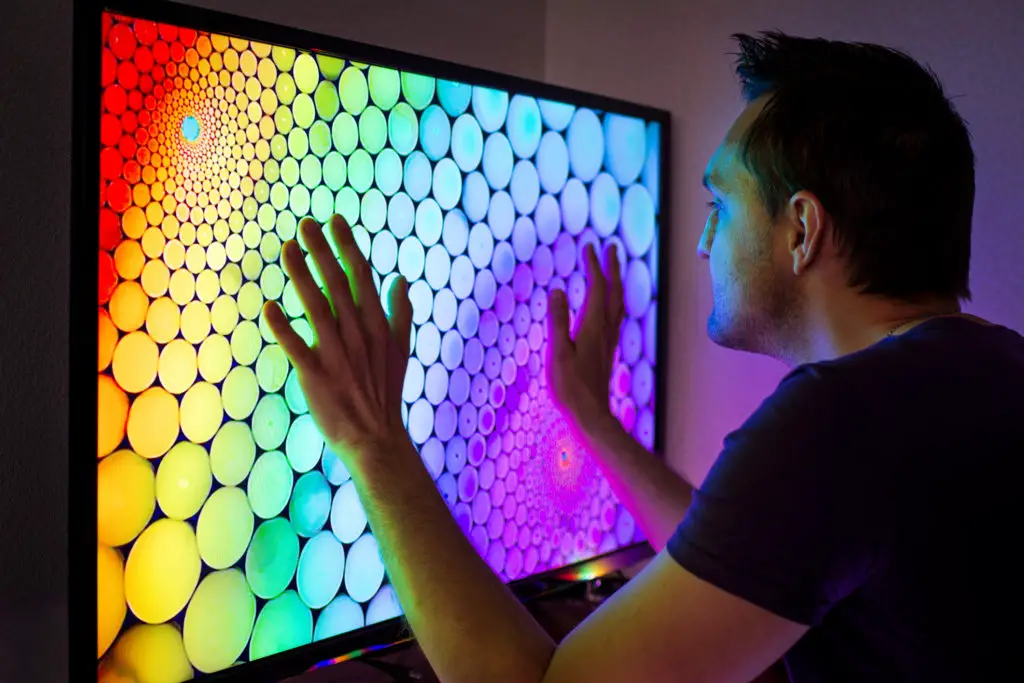 1. Create An Online NFT Gallery
Perhaps the most important advancement in the digital art space is the rise to prominence of NFTs (non-fungible tokens). 
NFTs are, in short, digital assets that cannot be replicated and represent a physical item – in this case, the original piece of digital art. 
Of course, any image can be replicated in seconds, and anyone could own that piece of art, right? 
Well, no. Because you have an NFT verifying that you own the original, you can establish that it's an original piece of art. Similarly, You need proof or provenance that the Picasso painting you own is valuable because it was painted by Picasso himself.
So how do you showcase your digital NFT art collection? 
One way is to create an online NFT gallery, popularized by high-profile figures such as Mark Cuban. 

An online gallery is an easy way to show people what collectibles you have. For artists, it's a great way to get your work out there and make some money in the process by presenting genuinely original artwork.
2. Upcycle An Old Tablet Or Laptop
What if you just want to enjoy your personal collection at home and don't want to display it to the public? On a budget, rather than getting an expensive digital frame to display your digital art, you can just upcycle your old laptop or (preferably) tablet. 
There are a few creative ways to mount or position your old devices. Laptops are tricky due to the keyboard, which kind of gets in the way. An old tablet is a much better option. 
After installing a photo-presenting app, use a table-top easel display to hold the device. 
While you can mount a tablet directly, I recommend using a floating shelf for wall displaying. Remember that you'll need to be near power.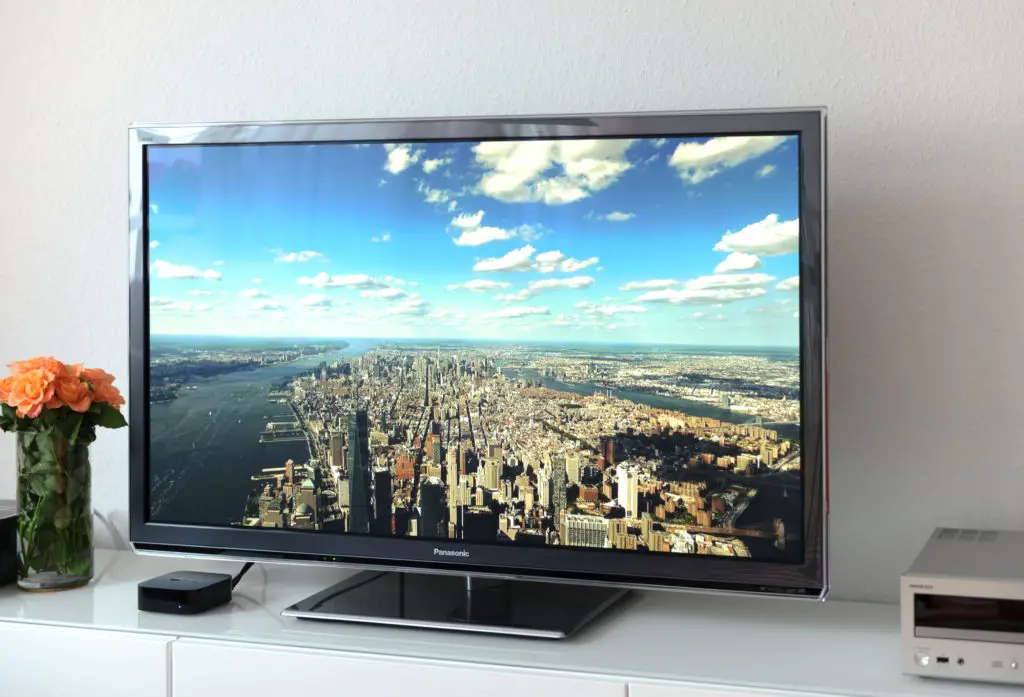 3. Leverage Your Smart TV's Screensaver
Why look for an empty space if you already have a big television mounted on your living room wall?
Modern smart TVs usually include a USB port and will display digital art directly from a storage device. Upload your art to the thumb drive, or in some cases, directly to the TV's storage. 
Many smart TVs have screen saver settings. When you're not watching the latest Netflix series, the television can use the screensaver to light up the room with digital art!
4. Rotate Your Smartphone's Wallpaper Daily
Just because you have a digital art collection doesn't mean you have to put it on display. You can enjoy it just as well, personally, if it's shown on that device that you carry around all day anyways – your smartphone. 
On Android, apps like Lock Screen Auto Changer can cycle through digital art or photos from your phone's storage. It can update the image displayed on both your lock and home screens. 
Apple's iOS is a little less customizable. The fantastic site HowToGeek has instructions on using AutoWall to change wallpapers. 
Your partner may not be impressed that they've been displaced from prominence on your lock screen. But, your digital art will be there to inspire and move you every time you unlock your phone.
5. Build Your Own E-Ink Photo Frame
Yes! You DIYers out there can actually learn to build a digital photo frame.
A Raspberry Pi is a low-powered, ultra-cheap computer. 
Check out this article from David Eisinger at Viget.com. He walks you through building your own e-ink digital art frame.  
Additional Resource:
Another great project is OpenFrame, the only open-source art-sharing platform that brings curators, artists, and enthusiasts together without charging a cent. 
6. Invest In A Digital Picture Frame
A digital art frame is definitely the best way to display your digital artwork, but not necessarily the most affordable. 
Electric Objects and Framed are leading the way in the industry, allowing you to display your digital art on some stunning products such as the Mono X7 ("the canvas re-imagined") and P24K Cinemax laser projectors that are utterly mindblowing (and bank-breaking at $899 and $3,299 respectively)
Netgear has also produced their Meural Canvas which retails for $250-500. This digital art display is controlled remotely by the meural app. The company offers an additional member subscription service that automatically changes the artwork from a curated list of artists.
For really tight integration with the blockchain, Tokenframe is another option to display your NFTs.
On the premium end, subscribers to Blackdove can have new contemporary art updated on their digital canvas.
7. Build An Exhibition In An Online World
Suppose you spend lots of time in an alternate digital world, like Second Life or even Minecraft. There are unique ways to display your artwork to friends online as you enjoy all of the fun. 
Second Life led the way with The Vordun Museum and Gallery, which is effectively a hub for galleries and exhibitions providing "an art and history experience like no other."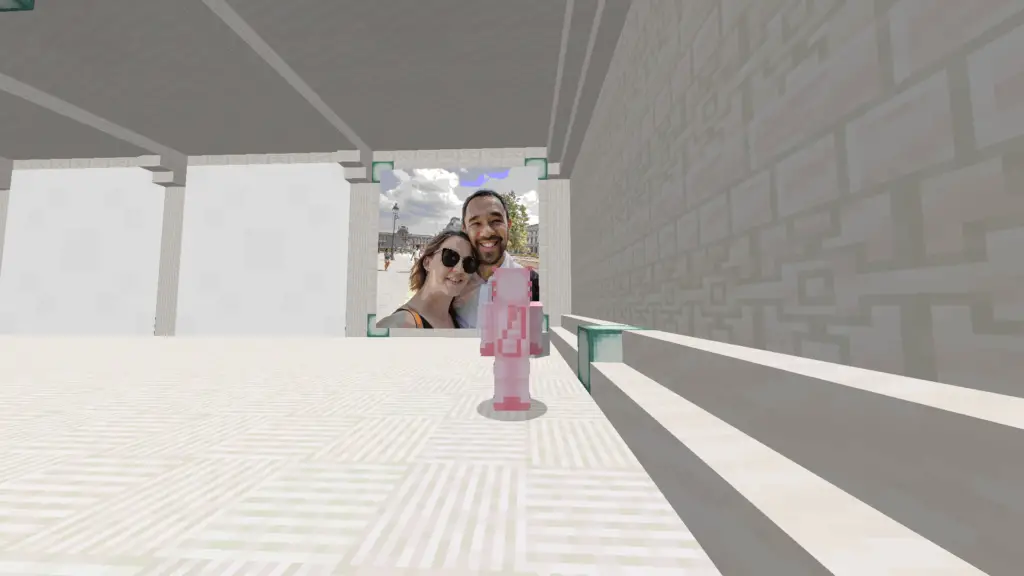 The popular game Minecraft also allows you to display your digital art in an online, open world. In this video, you can learn how to add custom paintings to Minecraft.
8. Display Art On Your Smart Fridge
It's crazy to think that appliances come with Wi-Fi these days, and our fridges are now starting to look more like televisions with large displays. 
Check out the Samsung Family Hub, which allows you to add photos or videos and make them your wallpaper. Who wouldn't want a fridge that displays a priceless work of art? 😄
9. Print To Canvas, Wood, Metal, or Wall Cling
Maybe you like digital art, but you're just old school when it comes to displaying it. Fortunately, you can mix new creation and distribution with traditional materials. 
There are plenty of online stores that offer high-quality giclée prints to hang on your wall. Print to wood, metal, or even produce canvas prints of your digital art. 
While you won't have the convenience of automatically swapping the art, there's plenty of story behind the printed digital (potentially NFT) art mounted on your wall.