Once you've purchased your fine art, you're next faced with how to display paintings at home. We've compiled these fifteen ways to showcase any type of wall art that will draw in viewers and enhance your decor.
Create contrast between artwork and room.
Entice viewers to enter the space.
Bring together similar pieces.
Skip the gallery wall.
Watch your lighting.
Set the right height.
Hang or lean art low accented with floor decor.
Use wall corners.
Layered or aligned on frame shelves.
Mount art on bookshelves or built-ins.
Lean large wall art on the floor or low credenza against the wall.
Play with frames and without frames.
Try vertical line hangers or picture rail molding.
Mount using clothesline or hangers.
Go unconventional!
We played with several of these ideas by cutting out large paper rectangles (reused Amazon packing paper), using masking tape to test locations and arrangements in our rooms. By the time we selected specific artwork pieces, we already had an idea of how and where we would display our hanging investments.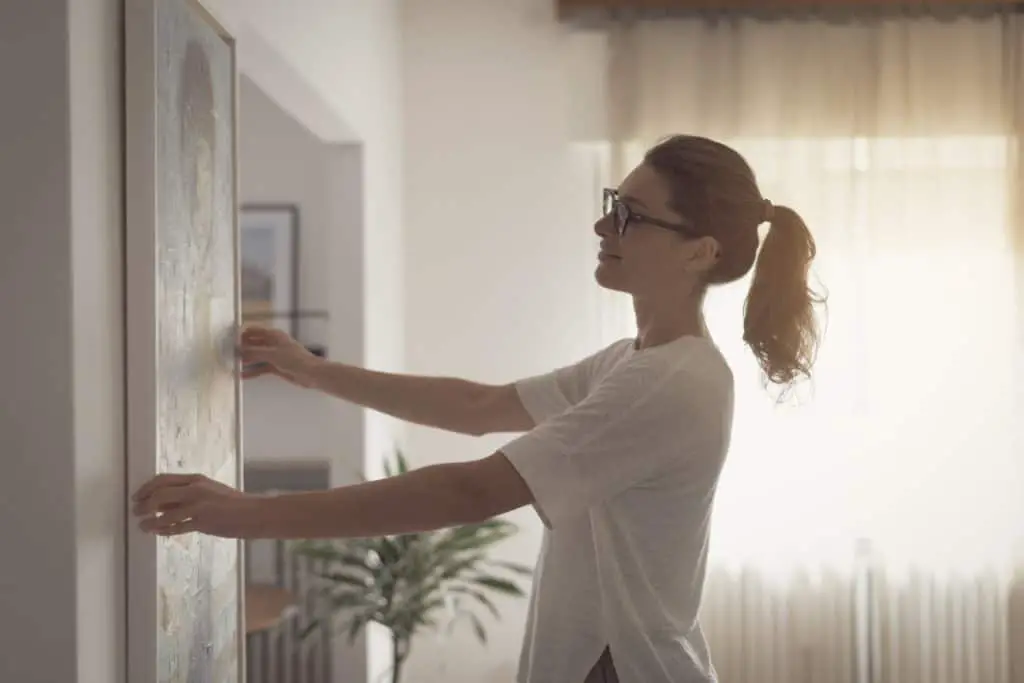 1. Create Contrast Between Artwork and Room
When you choose how to display a painting or fine art photography in a room, it's essential to consider the contrast with the room's color palette within the room. Try to master contrasting lights with darks and cold colors with warm colors. Once you have a feel for this, you can easily create a display that compliments the colors of its surroundings.
Take a look at some of the colors that surround the room. You can choose to find art that matches the surroundings, or you can change the décor based on the color scheme of the art itself. Art that clashes with the color scheme of a room can look tacky and unappealing. So you should try to find that perfect balance of color contrasts.
2. Entice Viewers to Enter the Space
If you invest in fine art, you want to entice people to want to come in and see it. The best way that you can do this is to make the space inviting. You should choose to display your art in an area that is clean and tidy and where you can see the artfully without obstacles.
Hallways and lounges are great rooms for displaying artwork. These are areas where visitors will most likely attend when they visit your home. Keep these areas clean and tidy to make the space more enticing and inviting.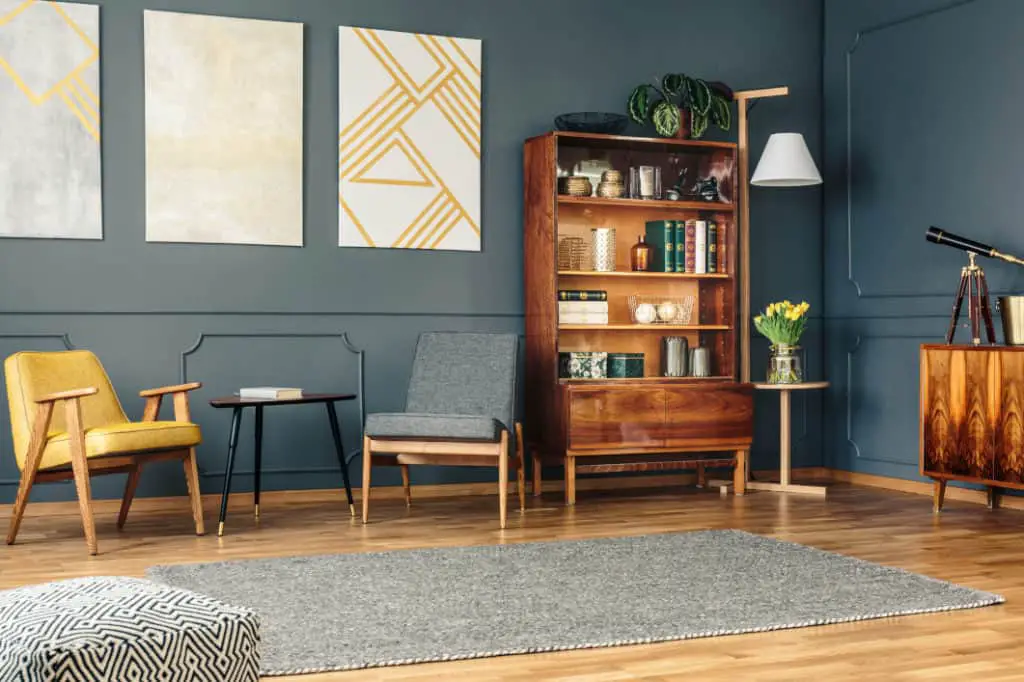 3. Bring Together Similar Pieces
If you purchase some similar pieces, these will look best displayed together. A popular option for displaying art is to combine a few works on the same wall. These can be all the same or different sizes but will always look best if they are similar styles or from the same artist.
If you buy some pieces within the same theme or have the same color scheme, these will look great as a collection on a single wall or within a single room.
4. Skip The Gallery Wall
Alternatively, you can skip the gallery wall concept entirely. If you invest a sizable portion of your budget in powerful, stand-out pieces of art, it's not uncommon to want to display that piece of art on its own to really show it off.
If you are looking to place all of the attention on one particular painting, illustration, or photograph, you would be better off displaying it on its own rather than as part of a gallery..
5. Watch Your Lighting
Displaying your artwork in the most appropriate lighting can help to preserve it. Harsh lighting can cause damage to the artwork in the form of color distortion and could result in brittleness. Follow the tips below to showcase and preserve the quality of your artwork:
Avoid letting light directly face your artwork.
Avoid displaying your artwork in any direct sunlight.
Don't use any fluorescent lighting around your artwork.
Many sites have online tools that can help you visualize lighting fixtures before you buy. For example, Perfect Picture Lights has a virtual demo room. Their tool allows you to upload a photo of your art hanging on the wall in your space, then allows you to play with various lighting options.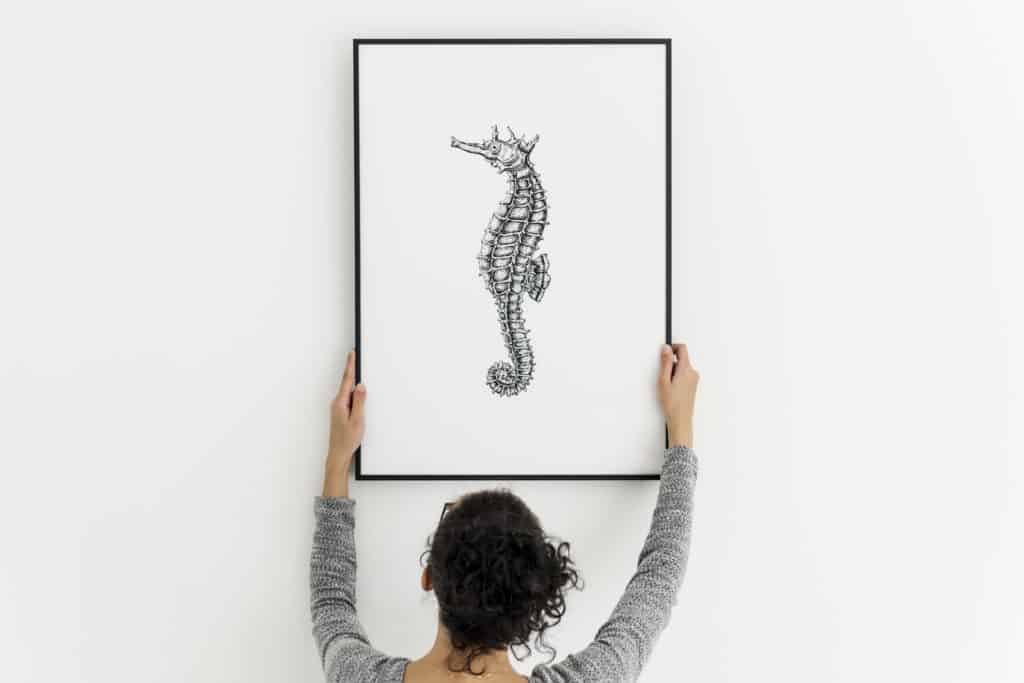 6. Set the Right Height
Consider which heights on a wall work best for your fine art. It is thought that art is best placed at eye level. The art piece's center should be around 58 inches or 150 centimeters high for it to be at the correct average height for eye level.
When you hang artwork at the right eye-level height, this creates a cohesive interior. It will allow the piece to stand out and look appealing within the room that it's in.
7. Hang or Lean Art Low Accented with Floor Décor
A large piece of art can be leaned or hung lower to the floor in line with the floor décor. This gives a very creative and unique look to the overall décor of the room. You can add even more depth to the artwork by layering pieces on top of each other in a leaning state against a wall.
Layering your artwork or displaying it in novel ways such as leaning or at a low level on the wall makes it very visually interesting. You can instantly transform an empty space by adding a leaning piece of artwork.
8. Use Wall Corners
Wall corners are an overlooked place to display art. Corners are often open and inviting and can provide a lot of space for creating novel art displays. You could create a corner section by displaying similar art pieces on both sides of the corner.
Displaying art in or around a corner is a great way to draw attention to pieces because of its unique concept.
Wall corners also provide an option to showcase art with limited wall space in a small space.
9. Layered or Aligned on Frame Shelves
Placing your art on a shelf or picture ledge allows you to really show it off without committing to hanging it on the wall. This is handy for those who like to change or move their artwork around often.
Placing your pictures and canvas prints on a wall-mounted frame rail allows you to play around with the locations of the art. You can align them with each other, or you can layer them, and you can also add other items such as ornaments to create a complete artistic look.
10. Mount Art on Bookshelves or Built-ins
A great way to add to the décor of your room and make your bookshelves or built-ins really pop is to hang a canvas print directly on them. This is an unusual and unique look that allows you to draw attention to your art while enhancing the appeal of ordinarily boring bookshelves or built-ins.
11. Lean Large Wall Art on the Floor or Low Credenza Against the Wall
Large canvas art pieces can sometimes be too large for the wall and may look messy. If that's the case, these types of pieces may be better off leaning against a wall. Not only does this allow you to create a cool, laid-back look, but it will also protect your walls against nails. This is especially useful in rental properties that don't allow you to add nails in the wall.
12. Play with Frames and Without Frames
Create a versatile look by mixing framed art and pieces without frames. This helps to create a unique look and allows each piece to stand out in its own way.
Select areas of a room or full rooms to feature only art with frames while creating separation from unframed artwork on their native media like canvas or wood panel.
13. Try Vertical Line Hangers or Picture Rail Molding
Vertical line hangers or picture rail moldings allow you to hang multiple pieces of art in a row. This is great for those who want to display large volumes of smaller art pieces. It creates a modern, chic look and works well in the majority of rooms.
This type of display works better for smaller pieces of artwork.
14. Mount Using Clothesline or Hangers
Mounting your art on a clothesline with clothespins or use hangers on a curtain rod. These ideas are a straightforward and cost-effective way of displaying your art. If your décor is minimalistic, this type of hanging art display will work very well.
Suppose you like to change your art frequently or your collection is ever-growing with new original art. In that case, these unconventional options provide display flexibility. You can move it around and change the style up easily as often as you'd like.
This method also works great for kids' art hung in the child's bedroom.
15. Go Unconventional
The beauty of art is that it can be displayed however you like. Although there may be traditional ways of displaying artwork, express your artistic flair by finding new and exciting ways to showcase your art pieces.
Experiment with several different techniques and see what creative way works best for your particular space. Everyone's taste and style are different. Explore Pinterest or social media for a new, great idea and test it. Sometimes the more extravagant the display, the more attention it will receive. Have fun with it!