Art can be appreciated by anyone, but it always seems only the rich can afford to collect works. This is simply untrue. Early-career or emerging artists produce some fantastic artwork. Their main goal is to create numerous pieces and gain a large audience. Each sale at this stage in their profession helps them produce their next pieces. Sales for this category of an artist are not for profit; it's working capital.
Collectors can buy art from emerging artists on specialized sites or dedicated sections of online art auctions. Smaller galleries, art residencies, universities, and social media help expose new, upcoming artists. Early career artists sometimes have their own sites to sell directly to buyers.
The first several ideas will direct you to artists that are less known and often have better pricing. The more common options later in the following list will lead you to artists with a more established following and body of work. Their artwork will naturally have a higher cost and built-in value.
1. Local Galleries
One of the best places to find emerging talent is at local galleries. Smaller, independent galleries often showcase newer artists. When you purchase pieces at these galleries, it encourages the art gallery to feature more emerging art and supports the artist in their budding career.
Local Galleries featuring artwork from emerging artists offer the most unique, technical, and undiscovered work they can find.
Because local galleries often display early-career artists' work, this option should be your go-to to place to find and buy art from emerging artists.
If you're not able to find an independent art gallery in your area, there are plenty of other ways to find local artists. Our favorites are the seasonal art fair and the random, popup solo exhibition.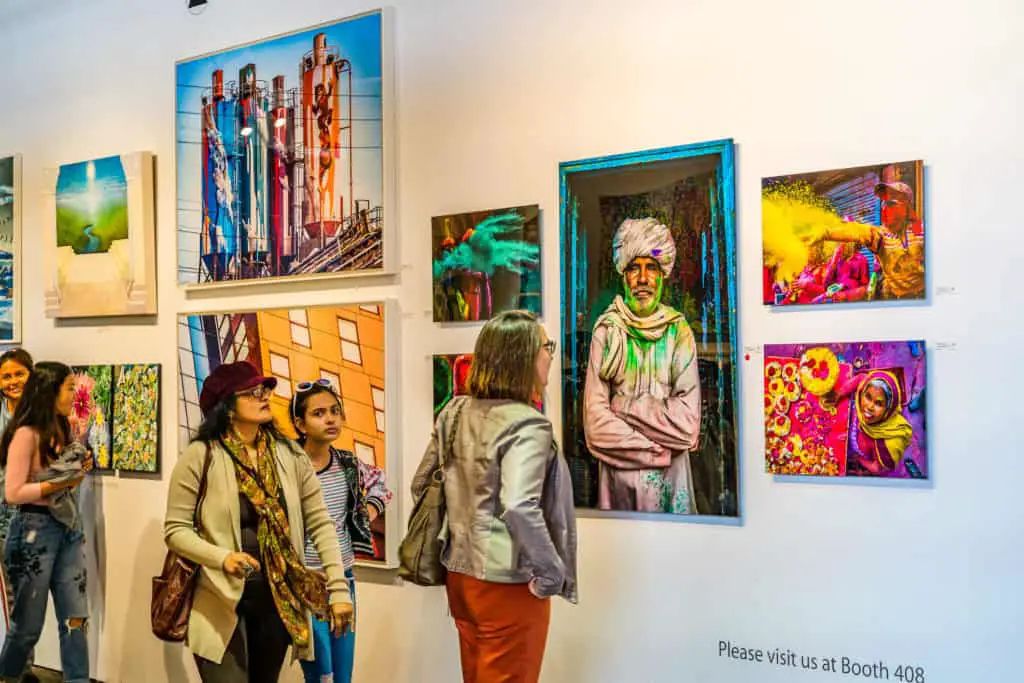 2. Art Shows
Art shows are a great way to find art that you really love. Usually, there are dozens or hundreds of different vendors showcasing their fine art pieces. There's never any shortage of original art for a new art collector to choose from.
Depending on the art show's scale, there are usually plenty of early-career artists displaying their emerging art pieces. The smaller shows often include more affordable art. The cost of fine art can be higher than you'd expect. Remember it's important to
Look at the piece, then the price.
Art shows are an excellent place to find, connect, and support emerging artists by purchasing their original artwork.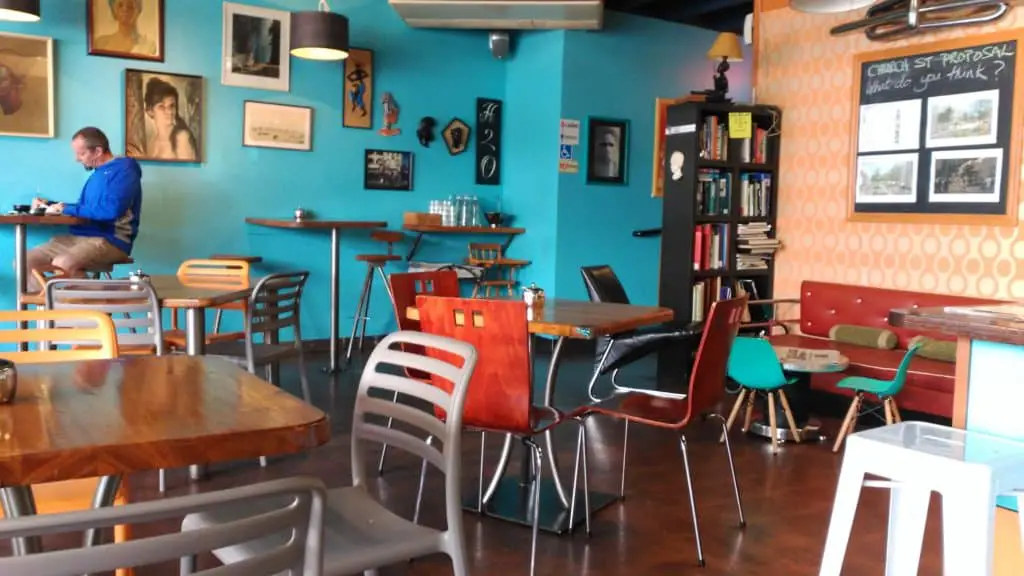 3. Coffee Shops
Local, independent coffee shops often showcase emerging artists. In addition to serving a comforting espresso, those new to art collecting may find a painting to add to their art collection.
Often, independent coffee shops are fun, quirky, colorful, and showcase some unique art. You'll find the occasional young artist displaying their work, adding to this vibe of the shop.
Artist Hint:
If you are an emerging artist looking to display your pieces or even make some sales, seek your locally owned and operated shop.
4. Etsy
The internet makes it incredibly easy for art lovers of all types. Esty is an art market platform for artists worldwide to sell and ship their original work to customers anywhere. Although these artists might not be local to you, many are smaller emerging artists that would love your support.
Etsy has a lot of diversity when it comes to the various art they sell. Pieces for sale falling into a large set of categories, including:
Jewelry
Glass Art
Sculpture
Fine Art Prints
Clothing Pieces
Original Photography
Limited Edition Wall Art
Etsy is a fantastic way to find and support an emerging artist.
5. Emerging Artist Gallery
The name says it all for this website. Emerging Artist Gallery is where you can "buy the best in emerging contemporary art."
Enjoy carefully curated online art exhibitions, featuring artworks by the best, talented emerging artists, and learn how to invest in fine art.
This website makes it easy for new creatives to gain exposure to the art world. The service handles much of the promotion and brokering between the emerging artist and the art buyer like you.
The agents are different depending on if you are a buyer or seller. If you are looking to purchase art, then the agent is in charge of passing on your contact details to the artist. Once in contact, the artist will work with you to arrange your new artwork's collection or delivery.
If you are looking to sell your art on the platform, the agents are there to connect you with buyers and make the entire process go just a little bit smoother. No matter what, the Emerging Artist Gallery is an excellent platform for both buyers and sellers.
6. Minted
Minted is a website with a lot more than art, but within their art section, they have many really great options from various independent artists and styles. Additionally, they also have art styling tips and an option to digitally view the art in your room before committing to buying it.
If you are looking for something unique for your home, Minted has an option to help collectors purchase original commissioned art. Emerging artists through established artists on the platform list their services in creating one-of-a-kind, meaningful artwork.
Minted makes it easy to connect with artists and find something you know that you want in your home.
7. Art Reviews
Publications are a great way for artists to get their art seen, and they are also a great way for art collectors to read up on emerging artists and the art they are creating. Although it isn't as common for new creatives to be published when an artist lands a spot in a well-known publication, it provides great exposure to their body of work when they get the opportunity.
Buyers can gain a complex understanding of both the art and the artists they are looking to buy art from these reviews. This can build the confidence of the buyer as well as the exposure for the artist. Follow art reviews in magazines and online media to keep an eye out for your new talent.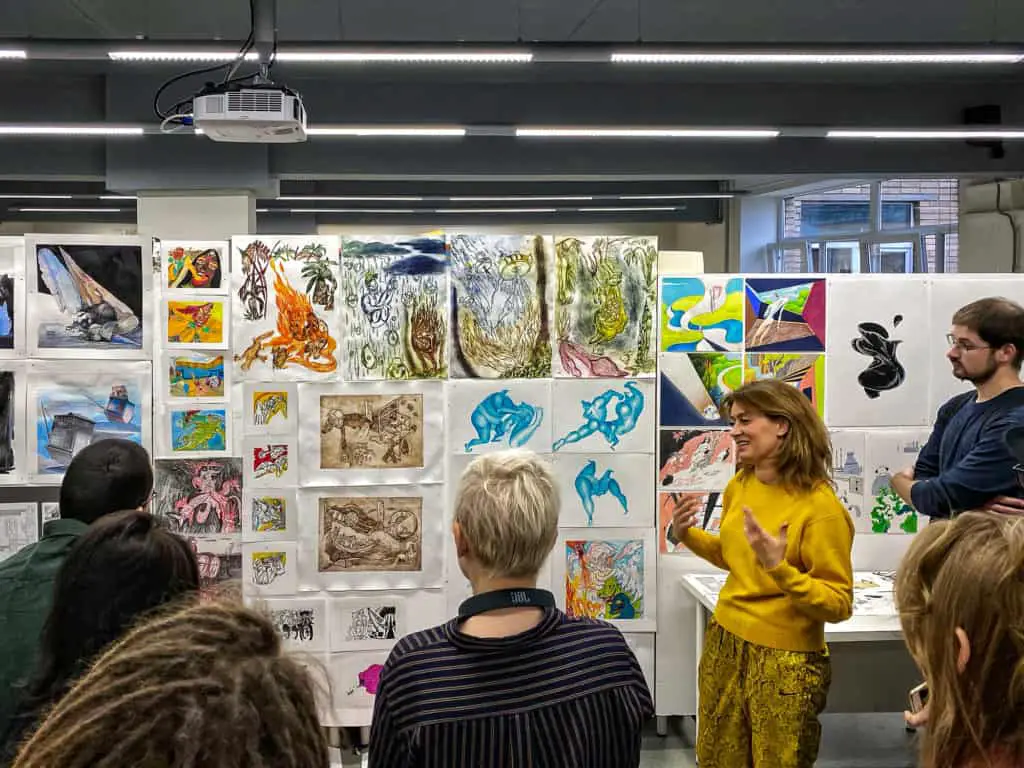 8. Arts Degree Shows
Emerging artists are often newly graduated or current art students looking to increase exposure for their artwork. There are often shows where these students can showcase their works in a show type of platform within art degree programs.
Looking into these shows and attending them is a great way to find emerging artists and support students who are just getting their feet on the art community's ground. If you are interested in attending one of these shows, you can look at your local university's art program, but oftentimes they aren't tough to find.
9. Art Awards or Grants
Open calls for artists happen throughout the year. Often, they are both recognized and supported by larger art institutions. These institutions and government-sponsored endowments provide great exposure and funding for new talent.
The awards and grants are given to artists displaying potential yet need help establishing themselves in the art community. Following art grants and awards can lead you to emerging artists that have just received a vote of confidence from the art world and would benefit from your patronage.
10. Art Residencies
At some point in their careers, emerging artists often join some form of art residency. These artists are in the process of exploring new locations, working with new methods or mediums, and having their artwork showcased to new audiences.
Looking into artists who hold residencies is a niche way to find early-career artists. This is usually something that happens relatively early on in their careers while establishing themselves as an artist.
11. Social Media
Ok, so social isn't the most creative place to find emerging art. In fact, it's like most buyers' go-to category to begin their search.
But hear me out:
The two best social platforms for your emerging artist search are Instagram and Pinterest.
While many up-and-coming creatives post their primary works on Instagram, they'll often include a more personal side within their feed. Some artists give you a behind-the-scenes look into their creative process through Posts, Guides, or Stories detailing a work in progress from start to finish. These glimpses can help you build a connection with the artist and the artwork you are looking to purchase.
Pinterest has become more than just another social network. The social platform is now one of the most powerful image-based search engines. Users curate and share pinboards as they crawl the internet and the platform itself. You'll find many Pinterest accounts that have cultivated collections of art from early-stage artists. Each piece is usually linked back to the source on the web. It's from there you can connect with and buy work from new creatives.
Social media is a cost-effective (even with paying for ads) method for emerging artists to promote their works to a worldwide audience.