Robert Hughes of Time magazine believes that the price of a work of art is based purely on irrational desire. This seems particularly true for modern and contemporary art, where some of the dumbest art pieces can sell for millions. I found some of the dumbest art that sold for thousands and even millions of dollars:
Jean-Michel Basquiat's, Untitled (1982)
Jeff Koons, Balloon Dog (Orange), (1992)
Joan Miro, Femme au Chapeau rouge, (1927)
Alberto Giacometti, L'homme au doigt (Pointing Man), (1947)
"just setting up my twttr" NFT
Beeple's Trump Corpse NFT (Crossroad)
The Merge
"Charlie Bit My Finger" YouTube Video
Paris Hilton's cat, Munchkin
Toilet Paper
So, next time you are looking at artwork in an art gallery or on the NFT marketplace, remember that the price tag is not always an indication of the work's true value. It's simply a reflection of how much somebody is willing to pay for it – no matter how absurd that may be.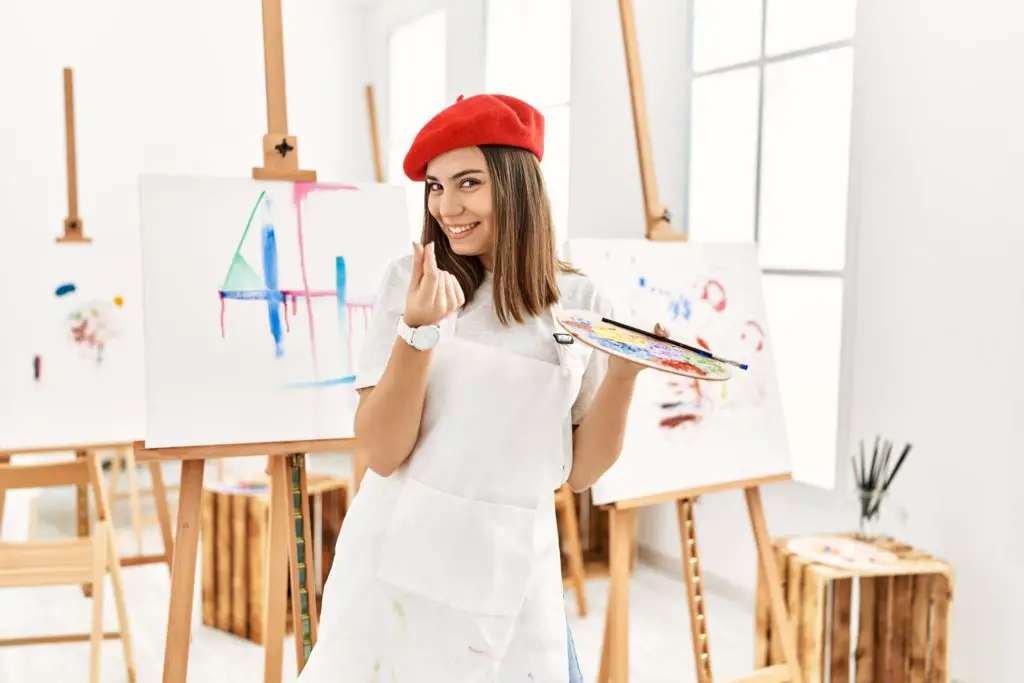 Why Do Rich People Spend Millions of Dollars on Art?
According to Forbes, the art market has gone into overdrive as the wealthy up their spending. The rich are spending more than ever on art and antiques, with the total value of the market reaching $65.1 billion last year.
Many collectors buy art for reasons other than just making money. They see it as a way to connect with artists and express themselves. Robert Patrick, who has been a gallery director at Walton street in Chicago for over 12 years, says that some collectors simply look at a work of art and say: "I understand what the artist was saying when they painted this," "I emphasize with the emotions expressed in this work of art."
The artist was able to share an emotion/idea, and the collector encountered a work that touches them on a profound level. This cements what Pablo Picasso said, "art is a form of magic designed as a mediator." 
Some wealthy people collect art as another way to diversify their portfolios. Masterworks.io found that over time, art has shown returns that are better than those of bonds. This makes art a good buy-and-hold asset that is not as sensitive to market movements.  Assets like real estate, precious metals, and collectibles like art also help protect against inflation when government currencies lose their purchasing power.
However, oftentimes the pieces of art bought from well-known artists are not attractive to most people.
Seemingly Dumb Artwork That Sold For Millions Of Dollars
To the untrained eye, these pieces of art may seem like simple scribbles or unfinished projects. But to the rich buyer, they're worth a fortune:
1. Jean-Michel Basquiat's, Untitled (1982)
A painting by the late Jean-Michel Basquiat, an African American artist, sold for $110.50 million at Sotheby's New York. The untitled piece from 1982 is a skull with scrawling.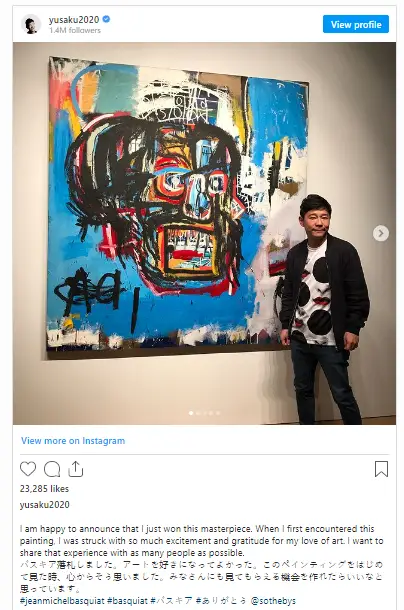 The painting was bought by Japanese billionaire Yusaku Maezawa. He celebrated the purchase by posting a photo of himself with the painting on his Instagram account. In the post, he said:
"I am happy to announce that I just won this masterpiece. When I first encountered this painting, I was struck with so much excitement and gratitude for my love of art. I want to share that experience with as many people as possible."
2. Jeff Koons, Balloon Dog (Orange), (1992)
A sculpture by Jeff Koons, Balloon Dog (Orange), sold for $58.40 million at Christie's New York. The sculpture was inspired by the birth of Koons's son in 1992 and features a mirror-polished stainless-steel balloon dog.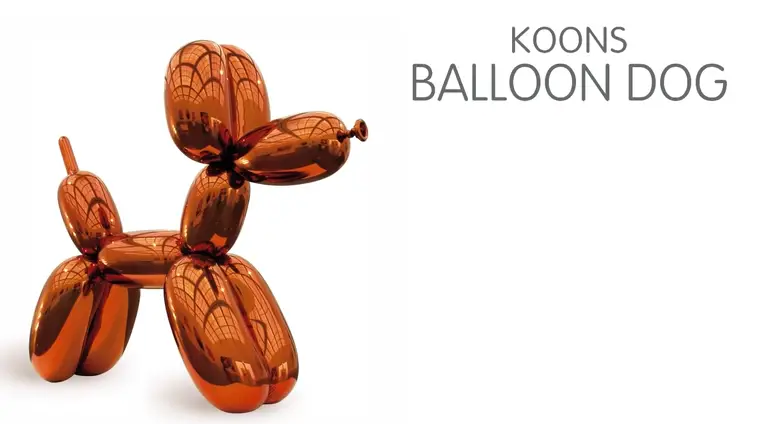 The artist, Jeff Koons, said this about the piece in one interview:
"I've always enjoyed balloon animals or inflatables because they're like us. We are breathing machines. You take a breath, and you inhale, it's optimism. You exhale, and it's kind of a symbol of death." 
3. Joan Miro, Femme au Chapeau rouge (1927)
Joan Miro's Femme au Chapeau rouge is considered to be part of his "dream paintings" cycle. This is widely regarded as his best work. The painting was created in 1927 and captures the essence of Miro's unique style. The painting has a blue background, which he characterized as the color of his dreams. There are also floating elements in the painting, which some interpret as a figure of a woman with a red hat. The painting sold for about 27 million dollars at Sotheby's.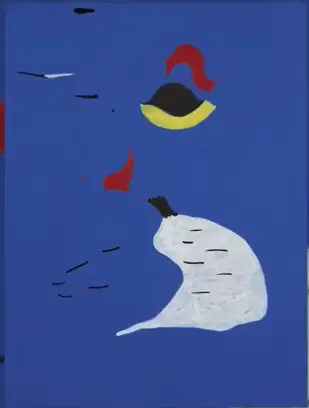 "I painted as if in a dream, with the most total freedom. The canvases of this period are the most naked I have painted." — John Miro
4. L'homme au doigt, (1947) (Pointing Man)
Alberto Giacometti's "L'homme au doigt" is one of the most influential sculptures. Standing at just over five feet tall, the bronze figure is incredibly thin, with long, slender limbs. The work was created in a single night in 1947. Today, "L'homme au doigt" is one of the most expensive sculptures in the world, having sold for over $140 million.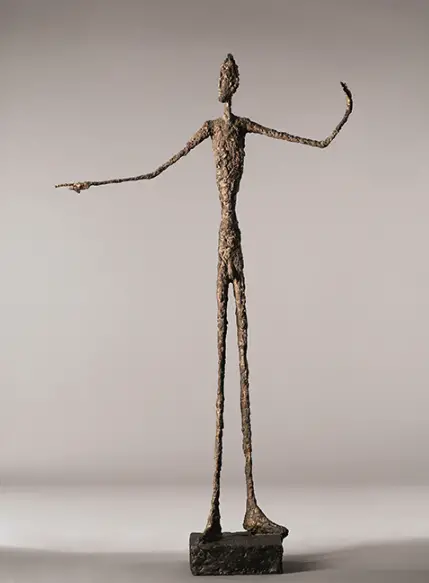 About the Pointing Man, Jussi Pylkkanen, Global President of Christie's said:
"The sculpture 'Pointing Man' is Giacometti's best work. The sculpture was made during a night of creative energy, and it points mankind to a brighter future."
NFTs: The Latest Dumb Art Trend Worth Thousands or Millions
For the uninitiated, NFTs (non-fungible tokens) are essentially digital certificates of ownership for unique items. NFTs can be used to represent anything from digital artworks and audio files to in-game items and virtual real estate.
NFTs are stored on a blockchain, which is a decentralized ledger that records transactions. It provides a secure, immutable, and trackable record of ownership for the buyer and seller. 
For digital artists, the recent NFT boom has been a godsend. For years, they've been dismissed by the art world at large, but finally, they're being recognized for their talents.
However, the novelty of NFTs and the fear of missing out (FOMO) has also led to inflated prices in the secondary market. 
Regardless, the NFT floodgates are open, and anything can be turned into an NFT and sold for thousands, or millions.
Examples Of Ridiculously Expensive NFT Art
Here are some of the wildly expensive NFT artworks that have been sold to date:
5. "just setting up my twttr"
Twitter co-founder, Jack Dorsey, posted the first-ever tweet on the site back in 2006. It simply read: "just setting up my twttr". This basic message would go on to be turned into an NFT that sold for $2.9 million in an auction by Sotheby's.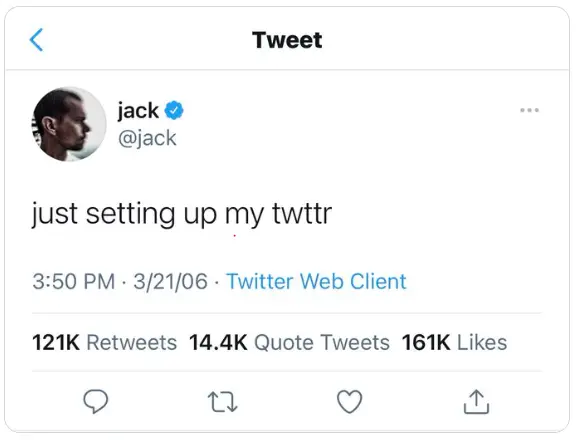 Jack mentioned that the proceeds from the sale will be given to charity, and here is what the buyer, Sina Estavi, thought of his purchase: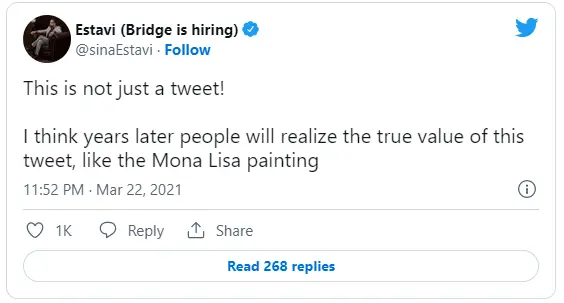 "This is not just a tweet! I think years later people will realize the true value of this tweet, like the Mona Lisa painting."
6. Beeple's Trump Corpse NFT (Crossroad)
This NFT depicts former President Trump after he lost the 2020 presidential election. The artist who made it is called Beeple and his real name is Mike Winkelman. Crossroads was resold to an anonymous buyer on Nifty Gateway for $6.6 million.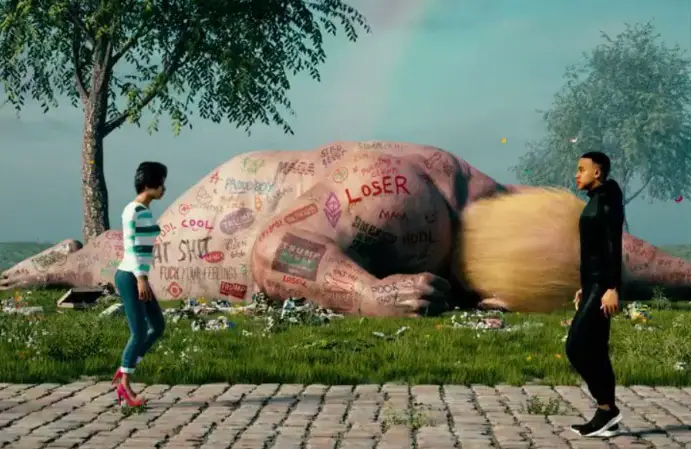 7. The Merge
The Merge is a collection of masses that people can buy. This NFT, unlike others on the list, takes advantage of fractional ownership. It was sold in stakes, or units, like shares of a company. People can own a part of the mass depending on how much money they spend. The creator, Pak, collected over $91 million from buyers.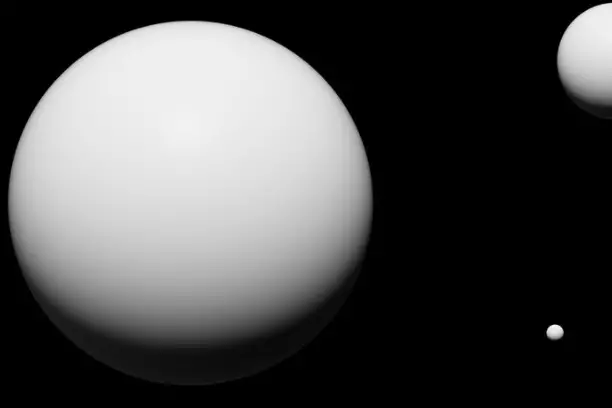 8. "Charlie Bit My Finger" YouTube Video
The viral "Charlie Bit My Finger" is a YouTube video by the Davies-Carr family. The video features Charlie, a baby, nibbling on his brother's finger. The clip was uploaded in 2007 and has since garnered over 800 million views.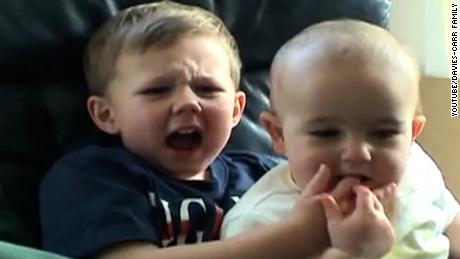 In 2021, the Davies-Carr family sold the video as an NFT for over $760,000. 
9. Paris Hilton's cat, Munchkin
NFTs are not just reserved for digital artwork, they can be used to represent physical items as well. In this case, an NFT was used to represent a cat. The cat's name is Munchkin, and she is owned by socialite Paris Hilton.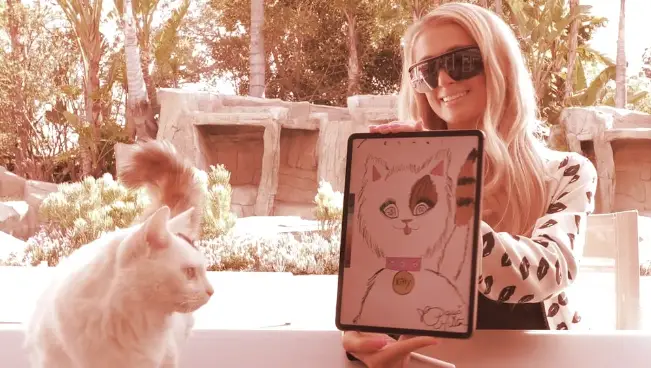 Munchkin was sold as an NFT for $17,000. This may be one of the most random pieces of art to ever be sold as an NFT, but alas, here we are.
10. Toilet Paper
If you are a collector of oddities, then I guess it's not surprising to come across the toilet paper-themed NFTs, non-fungible toilet paper (NFTP), by Charmin.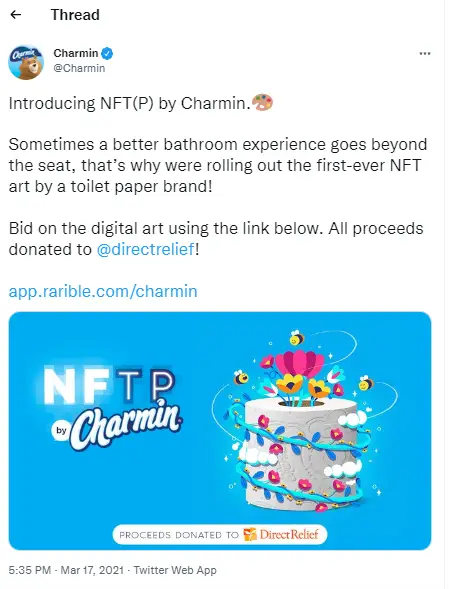 So far, there are 5 designs with the bidding price ranging from $500 to $2100. The company mentioned that the proceeds will be donated to charity.