Imagine finding out that a piece of art on your wall is worth ten times what you paid for it at the local art fair. Something in the artwork was interesting, and you've adored it for years now. Finding hidden gems starts with knowing where to look. Here's where we look to find local artists.
Art collectors can find local artists through independent galleries, nearby colleges and university art departments, and open studio events. Emerging artists attend art fairs, connect during meetup events, and include pieces in art scavenger hunts. Filter functions on art auction sites can direct buyers.
Local artists, for us in Europe, come from a long tradition and matching price tag. But wherever you are, you can find undiscovered talent producing artwork that you'll enjoy. Let's dig into each of the ways you can find local artists.
Bonus: I've included an extra tip at the end of the article.
1. Local Art Scavenger Hunts
Communities everywhere hold fun (often free!) art events like scavenger hunts. Here are a few art scavenger hunts of note, but with a bit of research, you'll be able to find a local art scavenger hunt near you.
Atlanta Georgia's Free Art Friday Art Scavenger Hunt
Each week, local creators hide small pieces of artwork around Atlanta. Artwork can be found in:
Window sills
Old phone booths
Train platforms
Other quirky locations around the city
Free Art Friday is an international movement promoting local artists and communities.
To play, check social media sites for the hashtag #FAFATL to find clues left behind by artists who have hidden their works around Atlanta.
FAF holds scavenger hunts in cities across America.
Scavenger Hunts at The Art Institute of Chicago
Working in teams, you'll uncover the secrets of the AIC on a whirlwind tour of the institute's greatest masterpieces. These scavenger hunts:
Are wonderful team-building exercises
Support local artists by supporting AIC- which regularly hosts events and fundraisers for local art initiatives.
This scavenger hunt was created by Watson Adventures and regularly hosts scavenger hunts in museums and art institutes across the United States.
2. Local College & University Art Departments
Supporting your local college or university art department is a powerful way to help a student or emerging artist in your community. Many university-level art departments hold campus galleries, department studio open houses, and art fairs.
These events are usually open to the public, promoting students' artwork for sale. Purchasing art from up-and-coming artists and new talent is a great way to foster a healthy local art scene for years to come.
Donating to your local college or university's art program is another impactful way to support local artists and the next generation of fine art talent.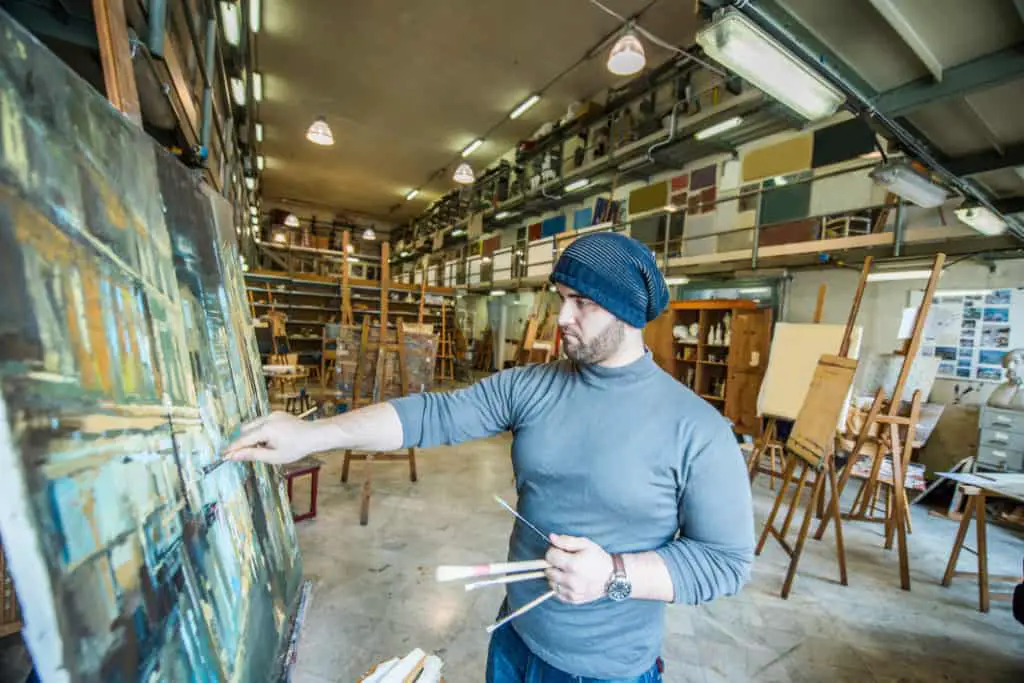 3. Open Studio Events Highlight Artists
An open studio event is an event where, for a limited time, an artist opens their studio to the public. Artists may offer:
Workshops
Artist talks
New art under development
Showcase original artwork pieces for purchase
These intimate events are an excellent opportunity to speak one-on-one with local artists and show them your support. Open studio events can be found online, on pages like:
Google Events
Social media pages of local artists
Your local Craigslist site
Your local news outlets and radio
4. Small Independent Art Galleries
Shopping locally at small independent art galleries is the most immediate way to financially support your community's local art scene. Independent art galleries often partner with other local businesses for pop-ups and events such as wine tastings, poetry readings, and live music performances.
Small independent art galleries, like many small businesses, focus on local artists and their work. Outside of galleries, neighborhood coffee shops and bookstores are excellent places to find art made by local creators.
5. Art Fairs and Craft Trade Shows
Art fairs (and arts and craft fairs) are popular among local artist communities everywhere. From small towns to big cities, you're sure to find an arts and crafts fair where you can support your local artisans. Below are some of the best sites for discovering art fairs near you.
Artsy is continuously updating its calendar of art fairs, shows, and exhibitions. Though they usually promote larger-scale shows, there is a page dedicated to fairs showcasing local artwork. These fairs typically take place in museums and institutes devoted to supporting the local creatives in their communities.
Artnet News recently publishes a comprehensive list of all the art fairs taking place around the world.
FestivalNet is an all-in-one stop for art shows, craft shows, and festivals. Here, you can search by state to find local art fairs and craft shows near you.
Another way to support your local art community through fairs and shows is by donating supplies to the artists or the event space hosting the fair. Unused creative materials that are still viable, like paints, canvas, and art kit supplies, help artists on a budget. Donated easels, tables, and display materials free up funds for buying new supplies.
6. Referrals and Word of Mouth
Word of mouth is the most powerful tool we have to promote and nurture our local art communities.
Spread the word and share if you know
artists,
small business owners,
gallery or exhibition space owners, or
others in the local art scene.
Referrals and networking are effective ways of creating momentum and discovering new ways of bringing local art to our communities.
7. Meetup Events for Artist Collaboration
Meetup is an online platform bringing people together. With event calendars for nearly every city in America, Meetup is a great place to connect with your local art community of:
Artists
Creators
Art fans
Buyers and sellers
Use Meetup to come together for:
Workshops
Paint nights
Galleries
Exhibitions
Pop-ups
8. Etsy & Craigslist
Etsy has become one of the most popular ways for independent and local artists to promote and sell their work. Here you can find the work of independent artists like:
Paintings
Ceramics
Jewelry
Knitted goods
Opting to shop for artwork via Etsy instead of the larger online marketplaces is an essential step toward supporting local artists.
Craigslist is another interesting way to support local artists. It functions similarly to Etsy, providing a platform for local artists and creators to sell their work. You'll also find local art-based events. Visit the community section of your local Craigslist page.
9. Social Media and The #ArtInMyCity Initiative
Social media is today's word of mouth. Promoting their work on social media is common for local artists to get the word out about their projects and events.
Don't hesitate to share art you like in your community online or follow local artists you love on:
Instagram
Pinterest
Twitter
Facebook
Note: Pinterest helps expose art via Etsy. You'll often find great pieces in your feed.
Following their feeds and sharing their posts is a free and powerful way to support local artists.
Another way to promote your local art scene is by participating in the #ArtInMyCity initiative. The Artling, an online platform where users share and discover community artists, launched the #ArtInMyCity. The initiative's goal is to bring local art to the worldwide web to promote togetherness. To contribute, use #ArtInMyCity on your social media pages and share photos of local art or exhibits you've been inspired by.
Bonus: Filters on Larger Online Art Marketplaces
The larger online marketplaces usually have filter functions to narrow your search to independent or local artists.
Shopping on bigger-name art marketplaces helps local artists. As their sales on these online markets and auction sites increase, so does the value of the artist's profile and body of work.
On Artspace, an online marketplace for contemporary art, you can filter by "new to Artspace," which will bring up-and-coming, new artists to the front of your search.
SaatchiArt offers a similar filter and allows you to search for art by pricepoint. New artists will typically sell their pieces for lower prices than more established ones, so this is a great way to support new artists whose work you love.
Even Amazon has a handmade filter, allowing you to search for items hand-crafted by independent artists, creators, and artisans. To shop on Amazon Handmade, go to their handmade page here.
Did we miss your favorite way to find local artists? Message us on Instagram or Pinterest.