The art world can be intimidating to the uninitiated. You don't want to overpay for artwork. How do you know if a piece is budget-friendly or overpriced?
As a beginning collector, it's better to lower your entry cost and search for pieces you love instead of worrying if the artwork is a good investment. Start inexpensively with pieces that won't break the bank.
Here are some of the places where you can buy art on a budget.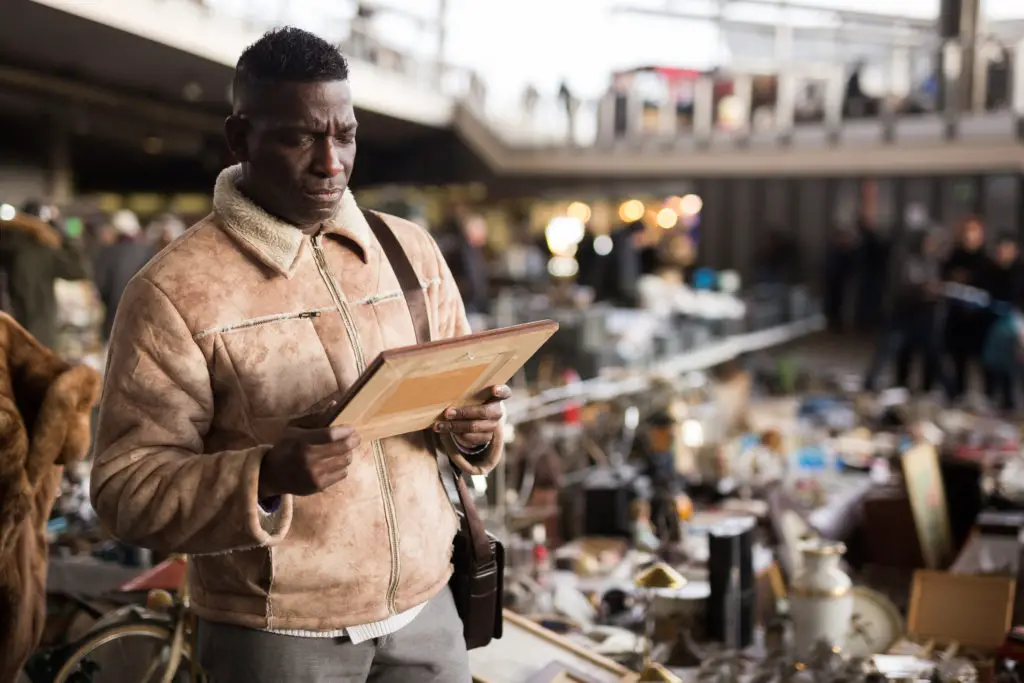 Flea Markets
You never know what you can find at a flea market, so test your luck. Vendors from an area come to these stores or street markets swapmeets to show off, swap and sell their second-hand finds.
There are different types of flea markets. You'll never know precisely what artworks to expect, but choosing the right market can lead you in the right direction.
Next time you're in a different city, look up local flea markets or find where and when pop-up flea markets are being held. Sites like
can help you find flea market locations.
Check out Flea Market Insiders. This site tracks the latest flea market news and events.
Tip:
Swap your contact information with vendors selling wall art that matches your taste. They may contact you if they find a piece matching your art collection. It's easier for them to make deals when they know they may already have a willing buyer.
Art Fairs
An art fair is a trade show gathering many artists, galleries, and other businesses in the art industry.
Open to the public, these conventions are a great place to start collecting your first art pieces. The event organizers publish their list of vendors in advance, saving you research time before visiting the fair.
The price range can differ from fair to fair, but there are many affordable art fairs where you can find great deals. Many emerging artists often use art fairs as a platform to exhibit their latest works.
Emerging Artists
Emerging artists are always good to invest in when buying art on a budget.
Keep a list of artists you find on the internet or the names you come across at art fairs. The savviest emerging artists will have an email list or social media presence. When you subscribe, you can be the first to view and potentially buy an original piece.
Interesting Idea:
If you find an emerging artist whose work fits your style, consider asking if they'd commission a unique piece for your room. Artists are often looking for inspiration, especially where there's a guaranteed buyer. Though remember to not constrain their creativity too much in your commissioning.
Online Art Forums
Art forums are usually used by artists to learn about art techniques, receive critique, and showcase their work.
As a collector, you can also use these platforms to get information about different artists and connect with them directly.
These art forums are filled with emerging artists producing all kinds of art.
Search these forums for art that you love and appreciate. Engage in the discussions with other collectors and the creatives themselves. You might find some great deals.
Garage Sales
Garage sales can be cheap, cheap, cheap! This is a place where you really can find that diamond in the rough.
Having an idea of the types of pieces you're hunting for is helpful, but garage sales are constrained in the variety of art. Typically garage sales are the best places to find vintage pieces since the sellers are looking for ways to get rid of old possessions.
Get/Make Documentation:
More often than you might think, you will be able to get the important documentation accompanying the artwork. These include certification of authenticity and/or provenance. And if no formal documentation is available, you can start the history by talking to the owner to get the backstory. Be sure to get even a handwritten sales receipt and record the city where you bought the artwork.
Thrift Stores
When garage sales are out of season, then try local thrift stores. Along the same line of merchandise, these stores offer various items that unwanted and often include wall art.
As with garage sales, be open to what's available at the time.
The downside to thrift stores is you won't get information about any artwork you find.
Craigslist
Craigslist is like a garage sale but online. You can find the art in the comfort of your home at excellent prices.
Real hidden gems can be found all around the nation or even the world. Shipping enables you to find and buy unwanted artwork from anywhere in the world.
Craigslist can be a relatively efficient way to find art on a budget by using the advanced search functionality built into the site.
Craigslist is not only used for finding art but also for advertising jobs, apartments, cars, and more. So, stay on track.
Exciting Tip:
Search for artists advertising their skills to commission custom artwork. Imagine getting custom, original art from an emerging artist in Paris or Italy whose one-of-a-kind painting was created specifically for you. Remember to obtain a signed certificate of authenticity for the art piece.
Minted
Minted, like Craigslist, is also an online marketplace, but the difference is that it specializes in art.
Artists use this platform for marketing their art independently.
Minted offers many different prints that are suited for home décor and allows you to start a collection on a budget. But know that most pieces are sold as copies of original artwork. Their website is easy to navigate, and you have a lot of options.
Etsy
Etsy is similar to Minted but sells a broader variety of handmade artwork and goods.
The site offers several marketplaces and categories. Check out some of these:
Big Box Retailers
Big box retail stores offer a wide variety of products. Because of scale, they can have large quantities of reproductions produced at low prices.
These inexpensive art reproductions are available from these chain stores or online as budget-friendly ways to decorate.
The art is very commercial, and you're likely to have the identical art print as many other collectors. This isn't a bad thing as long as you love the visual and it works well with your home decor.
You can level up your art by choosing a vintage or higher-quality frame to display the art. Also, consider selecting quality lighting to bring attention to the artwork as if it were high-end. Framing and lighting can elevate budget wall art to fit well in your space.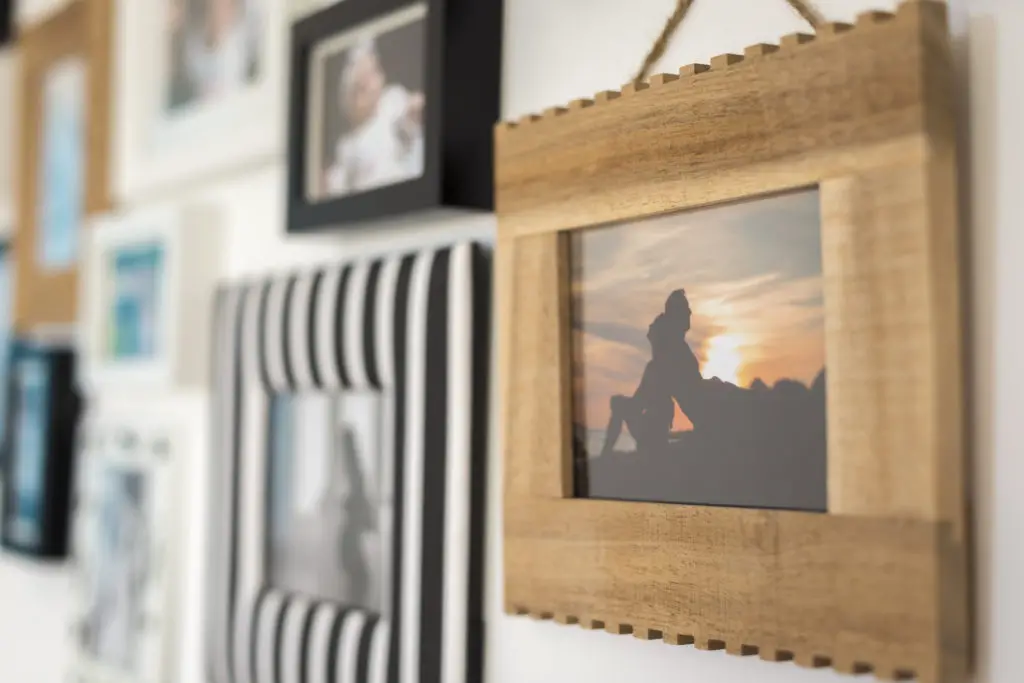 Create Your Own Art
For those that are touched with a bit of artistic talent, create a unique piece that matches your design concept for the space.
If you get stuck, check my list of 31 ways to get inspired and find a creative subject for the artwork.
Print Your Photos
Another affordable way to start your collection is by printing your own photos.
If you have photos that you like looking at, you might want to display them as fine art photography on your wall.
Online service will produce custom giclées. You can upload a photo that you own the rights to, and the company can print a scaled version to paper, canvas, wood, or even metal.
Check out these affordable services:
Unconventional Art
Visual art does not only come in the form of paintings, illustrations, or fine art photography. Consider art in the form of fabrics, ceramics, metalwork, mirrors, and glasswork.
You can be affordably creative by using unconventional objects as wall art.
In some countries, rugs with intricate patterns are considered beautiful art in their own right and hung on the wall as decoration. Other cultures weave silk or linen tapestries specifically for wall display.
The modern recycling movements allow for complete freedom to repurpose antique or discarded objects to form galleries of unconventional art.
Corporate Office & Hotel Liquidators
As more businesses transition to remote workforces, corporations are downsizing or eliminating office spaces. Corporate office liquidation companies are tasked with clearing desks, tables, lighting fixtures, and even wall art. Take a look at your local office liquidation companies. Several liquidators work nationwide, like Nationwide Office Liquidators and National Office Interiors & Liquidators.
This same close-out strategy also works for hotel and hospitality liquidators. It's best to find a local company. Still, as an example, California's Hotel Surplus Outlet has a dedicated section for art, mirrors, and other decor items.
Estate Sales
You can also find beautiful wall art in estate sales. These art pieces are usually on the more expensive side since the estate sale manager is incentivized to get maximum value from the total estate. However, you can often negotiate a better price towards the end of the sale as the manager runs out of time to clear the remaining objects.
Tip:
Give the estate sale manager your
contact information
the identifier of the objects you're interested in and
a bid
The manager may contact you later if they find your offer is accepted by the estate owner. You might end up with a great deal on an original painting or limited edition print.
Make A Deal
Remember the time-honored art of making a deal. If you find a piece of art over your budget, then make an offer within your budget.
It never hurts to ask. The worst thing that will happen is for the artist to turn down your request. This will give you time to think about your budget and make changes as needed. In the best scenario, the artist may accept your new price, especially if they know you are an avid art collector and may become a repeat buyer.
Some artists, auctions, or marketplaces offer to finance. We advise against using this type of deal.
Did we miss your favorite way to get a good deal? Contact us and we'll add your idea to this list along with a backlink.