How do so many people safely travel with artwork? This is what I have learned and how art collectors do it. 
Art collectors traveling with art must consider the artwork's material and condition along with the mode of transportation. Secure the piece of art in the appropriate packaging for the expected conditions. Temperature and humidity during the journey and at the destination can influence requirements. 
We'll also discuss customs declarations and professional options, but first, let's detail the most crucial factor: packaging.
Packaging Artwork For Travel 
Traveling with art requires proper packing to keep your valuable artwork protected during transit. These packing methods vary depending on an artwork's size, its delicacy, and the vehicle. 
Often the most protective packaging is a plywood crate, especially for large canvases and intriguingly shaped statues. A smaller canvas or photographs, if properly packaged, may fit in your carry-on as is. 
Here are factors to consider when traveling with art. 
Size 
There are different ways of packing artwork, all depending on its size. An artwork's size is usually not a problem when packaging it, but rather when transporting it. Ask yourself: Will my selected mode of transportation be able to accommodate my art and its packaging, or more simply, will it fit? 
Smaller art pieces are easier to package and travel with. A smaller artwork may fit in your suitcase if traveling by plane, but a bigger one will need to be checked luggage. If it is too big to check, consider shipping it instead. However, any art piece – regardless of size – must be appropriately packaged to be kept from damage. 
By the way:
The packing and protecting art during travel is similar to shipping. Take a look at my guide to shipping art, where I've detailed the materials to use.
Material Flexibility 
An art piece's material flexibility is crucial when choosing a packing method for travel. The more flexibility your artwork has, the stiffer material you will use to package it. Crating an artwork is packing the art in a plywood or cardboard box to create a hard shell around it. This is great when traveling with canvases, framed artwork, sculptures, or even photographs. Read here for more information about crating artwork when traveling.  
Another packing method for more flexible materials like photographs or unframed paper is to use a hard folder. This will prevent the art on paper from folding or bending when packed in your suitcase or bag. More rigid materials are not as flexible and are therefore more forgiving of bumpy travel.  
Fragility & Age 
Traveling with fragile or old artwork requires far more care than a newer, contemporary art piece.
Use synthetic materials like bubble wrap, styrofoam, and synthetic fabrics to pack delicate artwork so there is less chance of reaction with the art medium. Even more natural packing like coated commercial packing paper or glassine paper can be used depending on the piece. The best materials for packing fragile art are springy and light which will dampen any forced load. 
If you're uncertain about how to packing art it properly, you should consider hiring a professional carrier to transport it safely. Otherwise, consider supervising high-valued creations yourself during travel. For example, it may be more desirable to bring artwork as a carry-on instead of a checked item.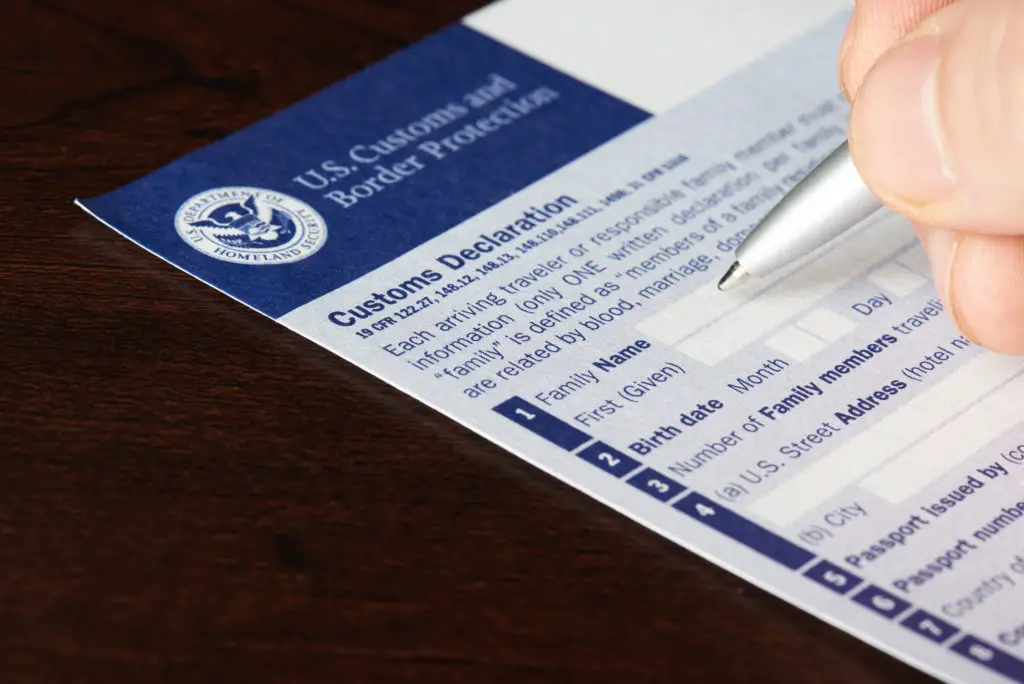 Customs, Imports, & Declarations 
Customs, imports, and declarations are some of the words you want to familiarize yourself with when traveling with the artwork. Customs is the place where officials check imported goods. Declarations are reports filled out by you to declare what imports or goods you are bringing into the country. 
As an artist, you may need to report more than your creative works. Any art supplies like oil paint, watercolor, watercolor paper, canvas, brushes, and other art material bought while abroad.
Every country has regulations on what's permitted for import and export and what items you need to declare. It is crucial to do your research on these laws before landing at your international travel destination. 
When traveling to the US, you need to complete a CBP Form 7523 when importing art. Customs has to check the art when the value is over $2,500. If the art is for personal use, then an oral declaration is enough. These forms are usually found at the airport. Or, they may be handed to passengers when traveling by plane.  
Insurance 
The insurance you need will depend on your travel method. If traveling with the artwork yourself, you are advised to purchase travel insurance to cover any potential damage to your artwork. However, if you are using a shipping company or a professional carrier, then these companies are likely to provide insurance. Always document your artwork with pictures before traveling with it so that you can prove any damage that may occur in transit.
Modes of Transportation
There are several modes of transportation available for the individual traveler.
Airplane 
Traveling with art by plane is usually very easy. Most airlines allow packaged artwork as your checked luggage or even in your carry-on if it is small enough. 
Be sure to package your art in a cushioned crate or a hard suitcase. Checked luggage will be tossed around.
You will have to pay extra baggage fees if your art is too large or heavy.
Check the airline's security guidelines on the Transportation Security Administration prohibited-items list to make sure you can travel with your artwork. 
Train 
You can definitely travel with art by train. There are different options when taking the train. Usually, you take care of your luggage when traveling by train. You may have to carry your artwork yourself and put it in the overhead luggage racks, under your seat, or in the luggage compartments. Traveling by train does not allow for larger pieces of art as space is limited. It does, however, let you have complete supervision over that prized painting lowering the risk of its damage. 
Cruise or Boat 
Many cruises hold art exhibitions where you can purchase a painting or other creative works. The onboard gallery's curator will often stow your personal or purchased artwork in a secure storage room. If the piece is small enough, you can opt to keep it in your cabin or stateroom.
On smaller boats, you will need to carry your artwork in your suitcase or near your person storing it in overhead luggage racks or open luggage compartments. 
Remember to package your artwork to be safe from water. The casing and wrapping should be waterproof and buoyant if possible. 
Motor Vehicle 
There are a few things to consider when traveling with art in your car or motor vehicle. When storing artwork in the trunk, keep in mind that your piece of art will move with the car's movement. 
Wrap the edges and consider crating the artwork if there will be other items in the trunk. 
Store the artwork in a way that prevents other things from bumping into it in the trunk. 
Avoid attaching the art to the car's roof; it is not worth the risk of it falling off or bad weather destroying it. 
Instead, rent a bigger vehicle if the artwork is too big for your trunk. 
Control the heat. Do not leave your artwork in the car on a hot summer day. Heat can cause severe damage to artwork. 
Consider Using a Commercial Carrier
If you do not want to risk damaging your large, valuable and breakable artwork, consider hiring a commercial carrier to do it for you. Commercial carriers are professionals that are experienced and equipped to package and transport artwork safely. Keep in mind that commercial carriers are more pricey than public shipping companies. The expense may be worth it!