For art collectors, having a painting, illustration, photograph, or other types of artwork appraised is one of the first crucial steps in owning and later selling a piece. An appraisal report is a key document to validate the fair market value and becomes a vital step in watching the investment grow in value over time. But how do you get art appraised?
Art appraisals are performed by experienced professionals. Contact reputable art dealers or appraisers that belong to recognized associations and have extensive expertise in providing estimation services. Insurance companies that underwrite artwork sometimes have a referral list of appraisers.
I had the following questions when locating and interviewing art appraisers.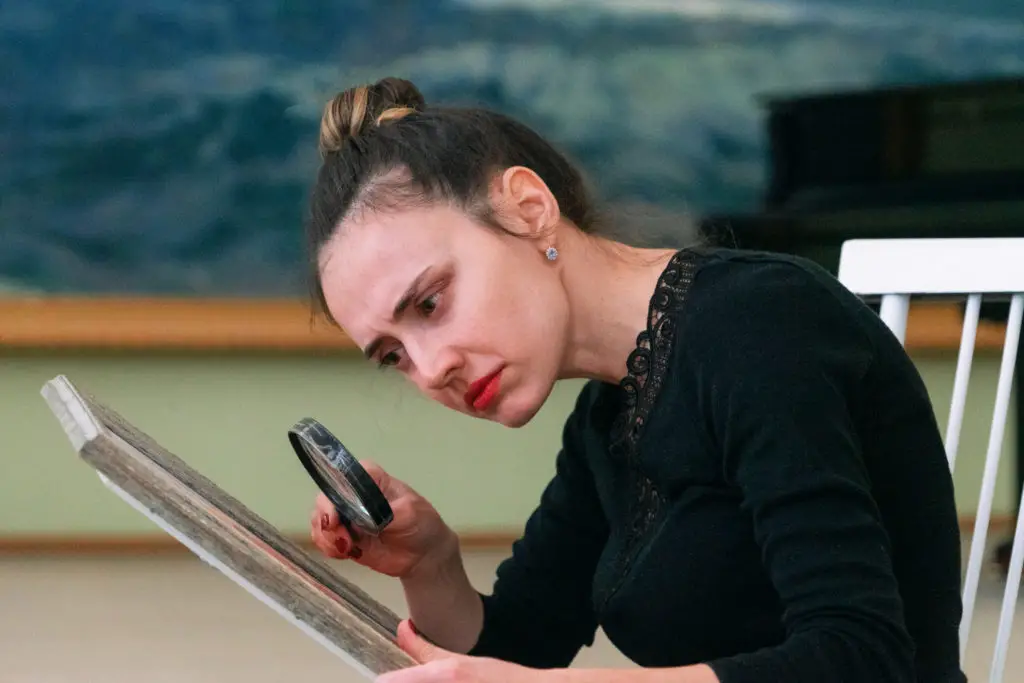 Appraisal Basics
How do you know if artwork is valuable?
To know if your artwork is valuable:
Research the artist's career stage along with the size and popularity of their body of work.
Compare recent sale prices of similar pieces by the artist.
Hire a professional to authenticate that your item is genuine then a certified appraiser can provide a value.
As you research, you'll find a vast range of prices of art. Online research is the most accessible resource, especially if you've purchased or plan to purchase something online. A Certificate of Authenticity (COA) and a written provenance or history of a piece can help support a valuation.
Using information such as the artist, time of composition, material, style, and provenance can guide your searches. You can find the sale or worth of similar pieces from this starting point for a general price estimate.
Important:
Online research can be a first but not a final stop in valuation. Personal research can only help you decide if it is worth pursuing a deeper investigation into getting at an art piece's value. If you choose to continue, it's time to seek a fine art appraisal from an expert who complies with the Uniform Standards of Professional Appraisal Practice (USPAP).
What is the purpose of an appraisal report?
The primary purpose of an art appraisal report is to establish a fair market value. A certified appraiser documents the approximate artwork price for insurance coverage, equitable distributions, or tax compliance. An appraisal also helps establish a sale or auction price.
The two primary uses for an appraisal report are insurance and equitable distribution.
For insurance, an appraisal usually refers to the "retail replacement value." This price is generally at the higher end of the valuation, reflecting a replacement cost in the case of loss or damage to the artwork.
In estate proceedings, an appraisal report will refer to a "fair market value," which is considered the lower end of a valuation range. This value is used to divide the possessions between survivors, family, and recipients of an estate. The same appraisal report is also used for tax reporting.
A charitable donation of artwork during one's lifetime or posthumously is often a tax deduction. The US Internal Revenue Service (IRS) requires a well-documented appraisal report for any gift over $5,000. The IRS even has a special board for donations valued at over $50,000 to scrutinize the appraisal report. Again, the fair market value is used for this scenario.
A painting could be worth millions or prized only by the owner for its emotional, sentimental, or aesthetic appeal. The fair market value generally supports an initial auction listing price. Bids will begin at this valuation, with the owner often seeing the final "hammer price" as the new, documented price of the piece.
How do appraisals determine the value of artwork?
Art appraisals determine the value of artwork through research on the artist, date of creation, materials, and dimensions. An appraiser used the current condition, history of ownership, certificate of authenticity, and recent sales or auctions to estimate the current market value.
The value of art is indeed subjective. The appraiser's documentation becomes as close to an objective valuation as is possible. In fact, a report that follows the USPAP guidelines itself adds to the overall value of the work if ever the piece is brought to market for sale.
Appraisals tell you and future buyers the price of the work and how it fits into the art market at the time of the assessment.
How does a fine art appraisal work?
A fine art appraisal works by finding a certified, USPAP-compliant professional and establishing a written agreement on their credentials, services to be rendered, and expectations of the appraisal process. After paying the invoice, the appraiser delivers a report after the agreed evaluation period.
This appraisal report becomes a legal document supporting the art piece. The report should answer a majority of questions about the value of the work under most circumstances for a given need.
For example, an insurance appraisal will include descriptions and reasonings to support restitution in the event of loss or damage to the work of art.
An equitable distribution or sales appraisal documents similar characteristics of the artwork. It will answer many questions a future buyer might want to know to assign an initial sales price.
Appraisal Pricing
Like with everything in the art world, the cost of an appraisal varies widely depending on the appraiser's experience, location, research depth, types of documents to deliver, etc.
How much does it cost to have art appraised?
It costs between $150-200 per hour to have art appraised. While some appraisers charge per piece or report, an hourly rate is more common. Association membership, experience, and expertise impacts this rate. Obtain a written quotation with fees and expected appraisal documents before work begins.
I contact 6 US-based appraisers from the 3 primary art appraisal associations/societies to confirm pricing. I've listed their contact information later in this article.
But what if your initial research shows that your piece is not valuable enough to support the cost of having an appraisal?
Where can I get a free art appraisal?
You can get a free art appraisal from some auction houses. Generally, these estimations are offered to entice sellers to bring artwork to the business and increase the company's inventory. A free appraisal from an auction house should only be considered as a research starting point.
Remember:
Auction houses earn a profit when they successfully sell a piece of art. They may only provide an estimation when their staff sees a minimum level of value.
Other auction companies have designated valuation days or offer inexpensive online/remote appraisals. Again, these services anticipate that sellers will want to use their market to consign their artworks.
In fact, Barnebys purchased online appraisal company ValueMyStuff.com to bring their brick-and-mortar auction businesses into the 21st century. The service offers competitively-priced written appraisals. But despite paying even a nominal price for an assessment, this report is only helpful as an initial price when selling art at that particular brokerage house.
Are free appraisals acceptable for insurance or tax purpose?
A free art appraisal is generally not acceptable for insurance or tax purpose. A free report is primarily an offer to buy at a lower estimation of an artwork's value. A certified appraisal will include well-researched evidence from an industry professional supporting a higher, authoritative value.
Free appraisals provide little written documentation consisting mainly of an offer to buy at a given price and therefore are not accepted by insurance. Most insurance companies require professional documentation to begin underwriting an art piece or art collection.
An appraisal report for tax purposes requires an even higher level of documentation. Estate taxation and the charitable donation of artwork are highly scrutinized. An appraiser who established the valuation report can be called to further support their documentation. Free appraisals are not written for use as legal proof of value.
Free appraisals also generally take much longer to receive. Because art appraisal is not regulated, there is a risk that some free appraisals may not be accurate. If you think your artwork holds significant value, it is best to pay for an appraisal report.
Why does getting art appraised cost so much?
Getting art appraised is expensive because of specialized knowledge, heavy research, and legal documentation required to produce a report. Professional art appraisers have many years of experience in the art market. They also produce recognized legal paperwork which can defend their valuations.
It's important to remember that determining an artwork's value often requires extensive research and examining the work itself. Appraisers must consult databases and sometimes even books to find all the information they need to properly appraise a piece.
The cost of an appraisal is thus a combination of the appraiser's expertise, an examination of the piece itself, time spent researching the work and art market, and producing the final report documents.
Finding An Appraiser
How would one go about getting a piece of art appraised?
Initial research to see if worth the time
Decide why you'll want an appraiser
Find a reputable appraiser
Discuss all aspects of the services, then hire the professional
Receive the report and securely

file a copy along with the artwork's provenance
send a copy to your insurance company
What should a collector look for in an appraiser?
Art collectors should look for an appraiser that is a member of one of the 3 appraisal industry associations, The Appraisers Association of America (AAA), The International Society of Appraisers (ISA), or The American Society of Appraisers (ASA). The appraiser should follow the USPAP guidelines.
Here are the questions I used to interview the appraisers:
What types of artwork can you appraise?
What kinds of art do you specialize in appraising?
Do you have any certifications?
Are your appraisals in line with USPAP guidelines?
How are your services priced (by the hour or piece)?
What forms of payment do you accept?
Can you issue an invoice with an agreement for services?
What is a typical turnaround time for reports?
What are your data security practices? Is my information safe and confidential?
If you plan to have an in-personal assessment, look for an appraiser in your area and ask these questions:
Do we meet at your office, or do you come onsite?
How will we make an appointment?
Is there any preparation that needs to be done before the in-person evaluation?
For a remote or online appraiser, ask the following questions:
Do I need to ship my artwork to your location?
Can I take high-resolution photos to send?
How do I securely upload photographs of my art to you?
How do you find a reputable appraiser?
To find a reputable art appraiser, look for an appraiser that follows USPAP guidelines and is a member of the appraisal industry associations. Each of the organizations provides an online member directory to find an art appraiser near you.
Lelia Williamson Nightingale
Nightingale Art Advisory, LLC 
lelia@nightingaleartadvisory.com 
(404) 502-0080
Jane Cofer
Art Matters, LLC 
coferj@mindspring.com 
(404) 495-0156
Elizabeth L. Lovett, AM
Lake Lovett Appraisals 
ellappraisals@gmail.com 
(404) 984-9888
* Ms. Lake-Lovett was very communicative and transparent and a pleasure to interview
Spalding M. Nix, AM
Spalding Nix Fine Art 
spalding.nix@spaldingnixfineart.com 
(404) 841-7777
Selma Paul
Selma Paul Certified Appraiser & Estate Services 
appraiser@selmapaul.com 
(770) 888-8808 
ISA member since Jul 01, 2003
Courtney Ahlstrom Christy
Ahlstrom Appraisals LLC 
courtney@ahlstromappraisals.com 
(404) 219-9705 
ISA member since Jul 22, 2013
Disclosure: We have no prior or current business affiliation with these vendors. 
I chose appraisers around Atlanta, Georgia, for the ease of in-person evaluation. Use the association/society directories to locate appraisers in your area. Alternatively, many appraisers are starting to work remotely.
How to find online or remote appraisers?
The art market tends to thrive in urban areas. If you are not located in a metropolitan area, finding an in-person appraiser can be difficult. However, there are ways to have your artwork appraised remotely.
Many companies provide online art appraisals and generally have turnaround times between 2 to 7 days.
When searching for a company, it is best to look for one specializing in the type of art you want to be appraised. A company that claims to value absolutely any antique or art will likely not be as accurate as a company that focuses on paintings.
Many art appraisal businesses have found ways to conduct their appraisals remotely as businesses move operations online. You can try to reach out to an art appraiser specializing in your artwork to see if a remote appraisal is possible.
An online appraisal can be advantageous if you live in a more remote area. Online appraisals also tend to be cheaper than in-person evaluations.
In The Report
What kind of information should be included in an appraisal report?
The information included in a quality art appraisal report 
Agreement and job scope
Purpose of the report
Research and valuation methods
Limiting conditions
Appraiser disinterest statement 
Artwork's description and condition
Provenance/history summary
Certificate of appraisal with signature
Appraiser's qualifications and association membership information 
As mentioned before, these elements of an appraisal report should be collected using the Uniform Standards of Professional Appraisal Practice guidelines.
While the USPAP is designed primarily as a set of standards for real estate appraisers, the document is generally accepted as guidance for personal property appraisers, and in our case, art appraisals. The current standards can be found on The Appraisal Foundation's site.