Visiting an art venue, museum, or gallery is always exciting. But it can also be tricky to know how to behave. Ultimately, understanding art etiquette is one of the best ways to have an enjoyable experience.  
Art etiquette centers around some generally accepted rules and local venue guidelines. Avoiding touching art is the most common consideration, regardless of the exhibit. Some galleries or concerts prohibit recording. Art fairs or participatory art events disregard traditional art etiquette.
The good news is that you can use this list of rules and tips on the protocol in the art world to feel comfortable and get the most out of the encounter.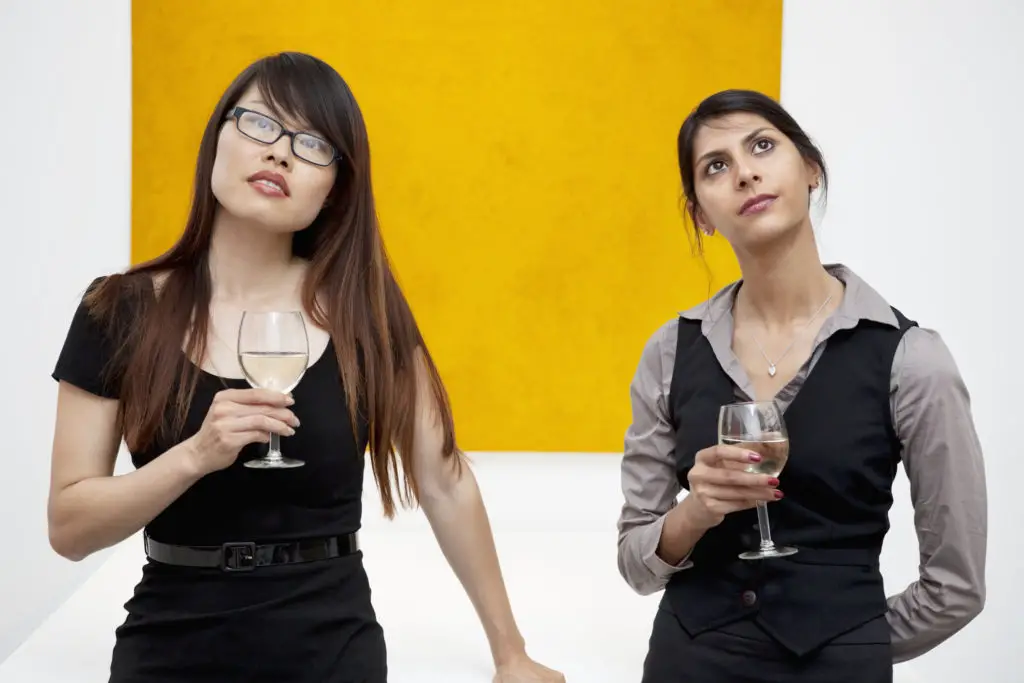 What Is the Proper Etiquette for an Art Venue?  
First, don't touch the art. Although today some exhibits encourage a total sensory experience, the curators and signage will let you know if that's the case. It's standard art etiquette not to touch the art.
Next, it's essential to consider that many galleries prohibit recording. If you want to take photos or record a video, make sure to ask permission.
Take a Cue From Other Patrons
Typically, art venues exude a peaceful atmosphere. They are quiet and pristine, allowing the art to take center stage. However, some art exhibits feature an interactive environment.
As a result, sometimes, it's tricky to figure out how to behave in art venues. But, you can always take a cue from other patrons. Watch how they act and follow their lead.
Art Etiquette and Artists
Art venues help artists by displaying and selling their art. Often, the artist is at the show's opening, which means you may get to meet them. 
However, keep in mind that it's best to keep the conversation short. Artists generally try to greet all the guests at their opening because it's an opportunity for them to network and meet prospective patrons. Proper art etiquette at any art event means you should remain respectful towards the creative work, and likewise, respect the artist's time.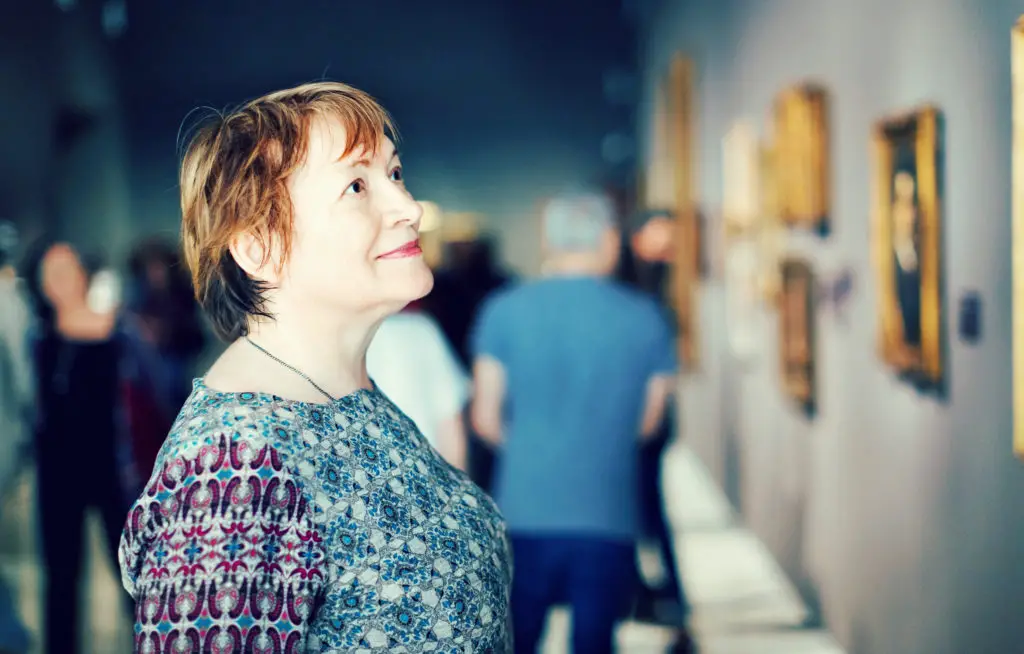 What Is Museum Etiquette? 
Museums differ from other art venues in that there is a well-defined art etiquette. In addition, proper museum etiquette usually includes a list of rules that explains the facility's code of conduct. You should always read the rules and follow them.
For example, while food or drinks are allowed at an art fair, they're generally prohibited in museums. 
Also, don't lean on the walls or get too close to the artwork. In a museum, this can be a serious matter. If you do get too close to the art or misbehave, you can expect a staff member to address your infraction promptly. You could even run the risk of being escorted off the premises.
Museums are quiet places. So, keep your voice down. 
What's more, while you can often use a camera, you don't use flash. And, you'll want to be aware of other patrons taking photos, so don't mistakenly stand in another person's way.
Touring a museum is a wonderful opportunity to become a student of art's history. Following behavior of other patrons and posted guidelines will help you follow proper museum etiquette.  
How Should I Behave in an Art Gallery?  
Art galleries display original art for aesthetic enjoyment, cultural enrichment, or commercial purposes. Proper art etiquette in an art gallery is similar to how you should behave in any other art venue.
Respect the art, space, and other patrons. Don't rush other people when they're enjoying a painting, photograph, or sculpture. Instead, you can engage in a conversation.
However, you will want to keep your voice down so everyone else can enjoy their experience as well.
Take Your Time
There have been many studies on how long people look at art. 
According to art critic and historian James Elkins, one study found the median time people view a piece of art is 17 seconds. Another fascinating discovery at the Louvre is that patrons view the Mona Lisa on average for 15 seconds. 
Remember, the longer you look at a piece, the more you will find. 
Indeed, many art lovers repeatedly return to the same painting to develop a deeper understanding of everything from the artist's technique to their use of symbolism.
Feel free to ask questions about a piece you find interesting, discover fine details that you love about the artwork, or let yourself be captivated and enjoy the experience in silence.
Tip
Oftentimes, wine or other adult beverages are served. This can be a pleasant addition to help the time pass more leisurely. But be mindful of your tolerance while imbibing.
What Do You Wear to an Art Show?  
What you wear says a lot about you. Plus, since there are different art shows, you want to dress appropriately for the style. Google for the artist and venue ahead of time to get a sense of the style.
First, look for pictures of previous shows at that gallery or with the same artists. Then, take note of how the attendees dressed. Also, consider that there are different types of art shows.
Private Art Shows
At private art shows, your outfit depends on the neighborhood. 
For example, upscale neighborhoods and downtown private art shows are great opportunities to bring out your inner fashionista. 
On the other hand, you can usually dress casually at a local small-town art show or art festival.
Public Art Shows
While the outfit doesn't have to be black-tie formal, nice dress clothes like you would wear to a theater performance are appropriate. 
Men typically wear a suit jacket or dress pants and sweater.
Opening Receptions
At exhibit openings, don't upstage the artist or the artist's work itself. But do dress up and wear a stylish dress and pumps or a fashionable suit. 
Still, dress comfortably while allowing your clothes to express your style. 
15 Essential Tips for a Comfortable and Enjoyable Experience  
You can easily spot what not to do and what seems to be proper etiquette by watching others. So, watch what others are doing and follow their behavior.
Don't be too loud. Keep your voice down and allow others to have conversations.  
If you are bringing kids, explain the rules to ensure they understand proper exhibition etiquette. 
Keep a safe distance between you and the artwork. And don't touch it.
Avoid crowding and respect others' personal space. Don't be pushy.
Do your research. Check for a dress code and specific rules. Also, do some research on the artist and the venue's background.  
Put your phone on silent. At a minimum, try not to use it too much during your visit. You can use it to take photos if the venue allows photography.  
Never use flash when taking pictures of the creative work. Using a flash can destroy not only the art piece but also take away from others' experiences.  
Avoid using a selfie stick.  
Take what you need and nothing more. For example, don't carry your jacket but instead, put it away in the closet if possible. Avoid bringing a backpack since it can quickly get in the way.  
Don't bring any food or drinks. The hosts will serve food at the venue if it's allowed. Similarly, be careful when eating or drinking. And take care not to get drunk.
Leave your pet at home because animals are usually not allowed at art shows unless they're service animals.
Don't wander off to restricted areas at the art show.
Be sure to move around in the space and look at all the artwork. Try to let everyone have a chance to look at the art and have an opportunity to talk.  
Finally, an art venue is not the place for patrons to sell their own products. An artist visiting another artist's exhibition should never pass along business cards or attempt to sell their artwork. Instead, be respectful towards exhibiting artists.